The most frequently used analogy when evaluating Dana White's public persona is that we never see David Stern dunking a basketball on the cover of a magazine, filming 90-minute cable specials on his training to dunk a basketball or publicly deriding the talent under his own banner.
[+] Enlarge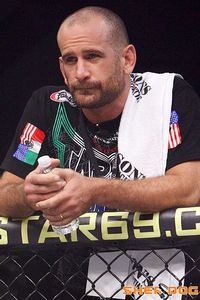 Sherdog.com
Greg Jackson doesn't buy the criticism that his fighters play it safe.
When confronted with this, White insists he's not Stern and that he will continue to tell it like it is.
White's latest target, coach Greg Jackson, responded to criticisms his fighters were too conservative by pointing out to MMAFighting.com that his athletes had received 12 fight-night bonuses in the past 22 shows. That's an award virtually every other event.
"He wants to say there's a consistency?" Jackson told Ben Fowlkes. "OK, let's look at statistical consistencies. Let's look at Jon Jones, who has finished every fight [he has worked] with me in the first round, except for that Matt Hamill one. ... Look at Carlos Condit, who had fight of the night and knockout of the night. ... Almost everybody on our team finishes consistently. There's no fact. Everybody's just making stuff up."
That last bit is a stretch. Fair or not, main events typically get a microscope examination, and several of Jackson's headliners -- Nate Marquardt, Rashad Evans and others -- have been in snoozers. But his point is otherwise valid. Why blanket this gym with a critique that applies only in certain situations?
White has a heavy investment in being perceived as "one of the guys" by fans, and he probably believes criticism of his fighters displays a solidarity with his audience. White is looking out for you crazy kids.