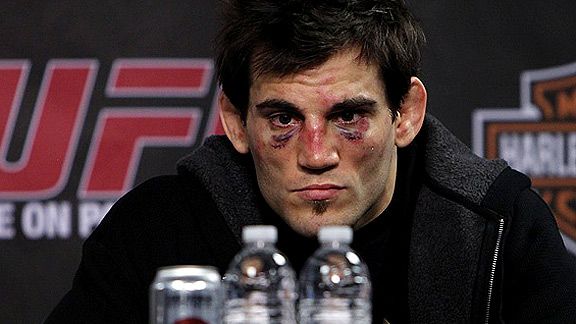 Sherdog.com
Jon Fitch takes his lumps both inside the cage and outside it.
Has the UFC ever employed anyone as passive-aggressively contentious as Jon Fitch? He was reportedly fired and rehired in a 24-hour period following hang-ups over video-game likeness rights in 2008; he refuses to fight teammate Josh Koscheck; he consistently settles for long, grinding wins over finishes in his bouts. Unlike Tito Ortiz and B.J. Penn -- two names often associated with promotional dustups -- he likely doesn't account for substantial revenue increases when he fights.
The latest is a quote offered to USA Today where Fitch explains that his refusal to fight Koscheck is "a business decision" more than anything stemming from their friendship. "It's bad business for our team to have teammates fight each other. We're professionals. We know what our job is."
That last statement is arguable: The UFC would contend that their job is to fight anyone at any time, and a refusal based more on "business" than personal feelings seems like a worse excuse.
For the sport's sake, I hope Koscheck and Fitch are never in an untenable position. If they fight, it'll probably be awful, and any weirdness -- which crops up often -- would be attributed to some kind of premeditation. If Koscheck beats Georges St. Pierre in two weeks at UFC 124, and Fitch gets by Penn at UFC 127 -- both perfectly reasonable possibilities -- the situation is going to get uglier than the longest of Fitch's decision wins.