Scheduling Quinton Jackson and Lyoto Machida as the main event for Saturday's UFC 123 is almost certainly a nod to Jackson's ratings winner of a program against Rashad Evans in May. Why else top a show with two fighters coming off losses? It's more of an "I'm still here" declaration than a lot of forward progress. It also has the potential to be a bit of a bore, with a counterstriker (Machida) moving laterally around a self-conscious, offensive fighter (Jackson).
UFC 123: Rampage vs. Machida

Get ESPN.com's full coverage of Saturday's UFC 123 event.
Topic page
It might be good. But it's all just billing, and the real headliner for many will be a third bout between B.J. Penn and Matt Hughes. Hughes has experienced a late career resurgence, while Penn is looking for a new path after Frankie Edgar more or less ran him out of the 155-pound division (at least temporarily).
If Hughes wins, it might be time to consider his place as one of the few former champions who keeps a steady pace instead of fading out. If Penn wins, he might be motivated to test his chances against bigger men who don't have the speed to buzz around him like an insect infestation. Either way, it's a fight with more at stake than anything else on the card. And isn't that why we watch?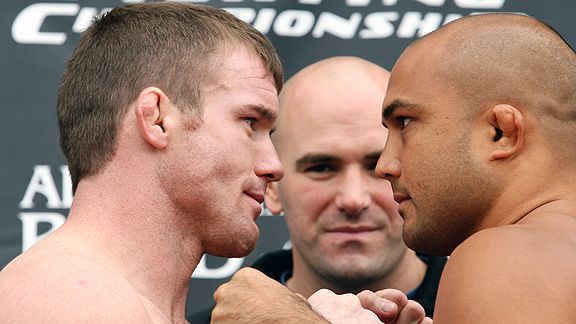 Wendi Kaminski/WireImage
Matt Hughes (left) and B.J. Penn have a little unfinished business to attend to.
What: "UFC 123: Rampage vs. Machida," an 11-bout card from the Palace at Auburn Hills in Auburn Hills, Mich.
When: Saturday, Nov. 20, at 10 p.m. ET on pay-per-view, with a live preliminary special at 9 p.m. ET on Spike.
Why you should care: Because Machida's reaction to his first career KO loss (versus Mauricio Rua in the spring) will either embolden or deflate his karate gi; because Jackson appears serious about conditioning in a way he was not for the Evans fight; because Phil Davis remains a viable wrestling prospect at 205 pounds and may one day enter the rare air of Jon Jones or Ryan Bader; and because Hughes hasn't been sitting on his reputation. He continues to get better.
Fight of the night: George Sotiropoulos versus Joe Lauzon, two terrific submission fighters who have the ring energy to emulate Diego Sanchez versus Karo Parisyan.
Hype quote of the show: "I just hope Machida comes to fight and considers the fans and puts on an exciting fight." -- Jackson on Machida's duties to the audience. Worth mentioning: Jackson's fight with Evans was not exactly a stash of fireworks.
Questions: UFC 123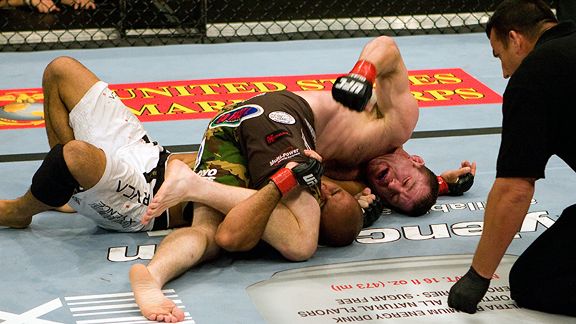 Josh Hedges/Zuffa LLC/Getty Images
Matt Hughes (top) might not be so anxious to hit the floor this time around.
Is it impossible for Jackson to win a decision?
Want to catch the eye of a judge? Hustle. At best, a blizzard of offense seems to earn points on the scorecard. At worst, it can muddy the issue enough to keep your chances high.
Machida is a volume striker -- he comes in, throws and backs out. On the way, you might catch him or you might not, but his first instinct is preservation. He's not going to settle in and "exchange" in the way we've come to think of it -- not without something rabid in front of him.
That makes Jackson's job difficult on Saturday. If he slows down in the face of that frustration, Machida is going to burn a hole in the Octagon mat with his shuffling. And if it goes the distance, Jackson is in real danger of having his power shots devalued in the comparison. It goes against common sense, but Jackson's best chance may be to chase, confront and test chins rather than play for points. MMA's cards have worse odds than in Bingo.
Which Parisyan will show up?
The go-to media story for Saturday's undercard is Parisyan's return to the promotion after being ousted because of what Parisyan deemed "panic attacks" and his employers called "unreliability." An 11th-hour dropout in 2009 sealed it. Parisyan was left to fend for himself in smaller shows.
He did, but only once, and he now insists his problems are behind him. It's telling that the UFC would regulate Parisyan to a prelim slot when he's been as good a guarantee of excitement as anyone in the sport. Although he may feel pressure to distance himself from his reputation, Parisyan should know that fans enjoy a good comeback story much more than a tragedy. If he believes he'll be fine, he probably will be.
Who really holds the advantage in Hughes-Penn III?
Look at the results of their first two fights, and you'll find lots of asterisk-exposition: Penn won the first meeting in 2004, but Hughes didn't expect a lightweight to be such a threat; Penn was winning the rematch in 2006, but allegedly injured his ribs and allowed Hughes to deliver the only in-cage stoppage of Penn's career.
Penn was left to the lightweights, where he won and defended a world title. Hughes showed signs of age and effectively passed the baton to Georges St. Pierre. Both men have taken steps forward and backward to varying degrees. (Fighters run hot and cold -- what a revelation.) Hughes may have early difficulty taking Penn down, as ever, but a new variable is Hughes' increased confidence on the feet. Maybe he won't be in such a rush to ground the fight. And if not, the pressure is off. But Penn, down two fights in 2010 and facing a substantially bigger opponent, isn't going to have a relaxed locker room. In this fight, he who has fun wins.
Red Ink: Jackson versus Machida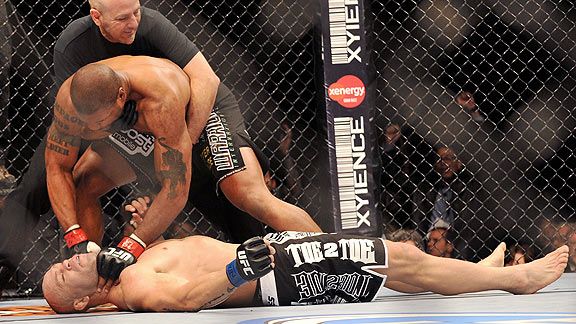 Jon Kopaloff/Getty Images
Wanderlei Silva did a better job of getting knocked out than of getting inside Quinton Jackson's head.
Machida finds himself in a substantially different role Saturday. Prior to the Rua loss, Machida was undefeated and trading heavily in a broadly-drawn story that cast him as an enigmatic, traditional martial artist. There was lots of footage of kata forms on a beach -- in silhouette -- and reverential talk about budo. Techniques of karate, which had previously been good to land a fighter in traction, were enough to win a world championship.
That got wiped off the table as soon as Rua knocked Machida out, fast and early. Instead of Machida, "Invincible Karate Man," he has been demoted to "Karate Contender." Instead of defending a reputation, he's trying to reestablish one.
Tweet, tweet
Don't miss a moment of the latest MMA coverage from around the world. Follow us on Twitter and stay informed. Join »
That's pressure. And although it seems like Jackson is in the same boat -- he dropped one to Evans and continually has to answer questions about whether he even wants to fight -- we know that he's a proven commodity under duress. How else can you explain his textbook KO of Wanderlei Silva in 2008, after Silva had annihilated him twice and after Jackson careened his truck off the road in a widely publicized meltdown? If Silva couldn't get into Jackson's head at that point, no one else has much of a chance.
Either way, both men should feel a little reckless: There's little shame in losing to another top-shelf athlete. Jackson and Machida are on the title bubble -- Jones or Bader could pop it -- so a decisive win could mean more than just a bonus. If you want to stand out in this division, it helps to finish.
What it means: For Machida, a chance to prove that his constitution will hold up following a KO loss; for Jackson, an opportunity to prove his MMA IQ hasn't suffered from being on film sets.
Wild card: Steven Seagal. That's right, Steven Seagal. Machida trained with him in all ranges -- including the ways of DVD residuals.
Who wins: Jackson is a calculating brawler. Machida is calculating, period. Unless Jackson can put him on his heels the way Rua did, it's going to be a long night of air punching. Machida by decision.