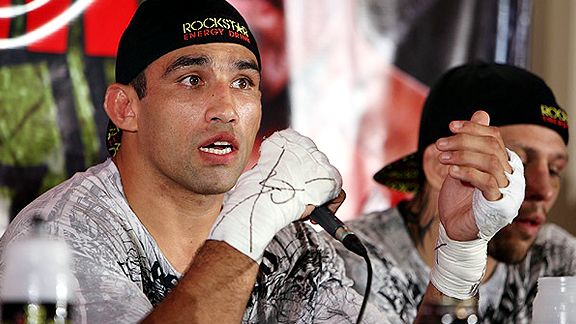 Dave Mandel/Sherdog.com
At what cost to Strikeforce is Fabricio Werdum's promotional freedom?
The open-market contract in MMA has officially crossed over from suspect to a very bad idea: Fabricio Werdum has made "a couple of good contacts" overseas and said he intends to fight for a foreign promotion before returning to Strikeforce in 2011.
Tweet, tweet
Don't miss a moment of the latest MMA coverage from around the world. Follow us on Twitter and stay informed. Join »
Strikeforce would like you to believe there's a kind of promotional nobility in signing fighters to non-exclusive deals. The organization probably would argue that it allows for fighters to be signed who otherwise would reject its offers, and that the practice serves the fighter's interests over the promotion's. And what's good for the fighter is good for the fans, right? But there's a reason fight leagues are self-centered: It's the only way to field an even semi-coherent roster.
Alistair Overeem should be defending his title against some kind of warm body on Dec. 4. Instead, he's fighting in K-1. By the time Werdum is prepared to return, he'll probably be somewhere in Poland fighting on an iceberg for the amusement of a dictator. By the time Werdum is ready, Fedor Emelianenko will be fighting Overeem in an orbiting space station funded by Mark Cuban.