If Thursday's WEC 52 event existed primarily for Urijah Faber to prove himself all over again, it was justified. Faber submitted Takeya Mizugaki in the first round, building anticipation for the UFC debut of him and his weight class next year.
[+] Enlarge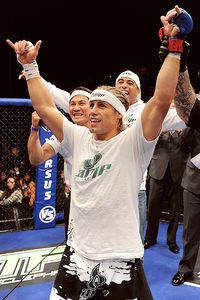 Kari Hubert/Zuffa LLC/Zuffa LLC/Getty Images
Urijah Faber's submission of Takeya Mizugaki at WEC 52 could breathe life into his UFC career.
It's always interesting to see how fighters respond to ultimatums. Some fights are big, all are important, but a few can radically change careers. Because Faber had more or less bottomed out at 145 pounds, beating Mizugaki became all but mandatory. (Few fighters, no matter how popular, can survive losing four of their last six.) Rather than allow that to tie him up, Faber fought as he normally does -- frantically.
Does Faber wait before getting a title shot at 135 pounds? Probably not. Faber holding the belt draws more than Faber alone -- and a great deal more than anyone else wearing it. Along with Jose Aldo, there's a real opportunity for the UFC to enjoy two substantial draws holding up the two additional divisions. And any pressure Faber felt Thursday might be lessened by his now need to worry only about popularizing his own brand -- this opposed to propping up an entire promotion.
It might have been more affecting for Faber to have fought on the WEC's last show, which airs Dec. 16, but MMA isn't big on sentiment. Although the promotion did everything it could to boost awareness for smaller athletes such as Faber, in the end the UFC brand cast far too large a shadow. Now there's more opportunity for money and attention in front of new eyes -- the same audience that will expect Faber to prove himself all over again, for the very first time.