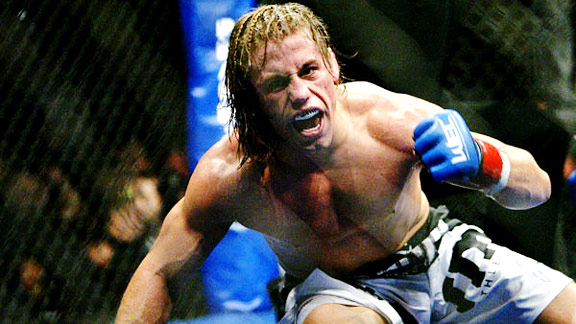 Jeff Sherwood/Sherdog.com
Already a big draw, Urijah Faber can pave the way to stardom as a UFC bantamweight on Saturday.
Watching a television program that has already been canceled can be a depressing experience. What happens to the talent -- in this case, WEC play-by-play man Todd Harris? Will the ring girl not named Brittany Palmer ever find a job as satisfying? What happens to the gaffer? (The UFC, no matter how large it grows, will never need two gaffers. In fact, I question the need for one.)
Sympathy for the working man might cloud your enjoyment of WEC 52, airing Thursday, but there are a few stories that will reach resolution when the company's roster is ported over to the UFC beginning next month: UFC 122, airing via tape delay Saturday, has at least one bout with title implications. Between the two, there are at least 10 good fights carrying zero cover charge over the next several days. Remember that when you're asked multiple times to go see "Unstoppable."
What: "WEC 52: Faber vs. Mizugaki," an 11-bout card from The Pearl at the Palm in Las Vegas; "UFC 122: Marquardt vs. Okami," an 11-bout card from the Konig Pilsener Arena in Oberhausen, Germany.
When: Thursday, Nov. 11, at 9 p.m. ET on Versus (WEC); Saturday, Nov. 13, at 9 p.m. ET on Spike (UFC).
Why you should care: Because Urijah Faber has a big opportunity to reinvent himself as a 135-pound star following consecutive defeats at 145; because Nate Marquardt might be the best 185-pound fighter not named Anderson Silva and not having allegedly recently failed a drug test; because Alessio Sakara and Jorge Rivera have the boxing technique to force an exciting stand-up fight without embarrassing themselves; and because it's always fun to read German newspaper propaganda about the Evil Invading Bloodsport.
Fights of the week: Rivera-Sakara in the UFC; compact serial killer Damacio Page versus Demetrious Johnson in the WEC.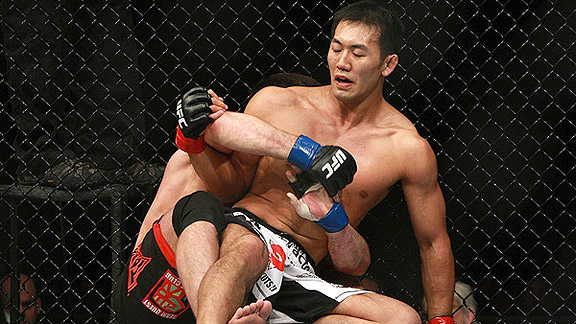 Dave Mandel for Sherdog.com
Yushin Okami, much like UFC 122 opponent Nate Marquardt, is calm in the face of adversity.
Questions: UFC 122/WEC 52
Is Yushin Okami "guaranteed" anything?
UFC president Dana White has promised the winner of Saturday's Yushin Okami-Nate Marquardt bout a crack at Anderson Silva's middleweight title. (Both men have fought Silva before: Marquardt lost, Okami notched a nothing win via disqualification when Silva landed an illegal kick.)
But one tremendous obstacle stands in Okami's way: himself. Despite spending four years in the UFC and losing only twice in 11 bouts, his fight style -- at times conservative, muted, dragging -- has attracted few fans. If Silva beats Vitor Belfort in February and Georges St. Pierre gets past Josh Koscheck, would the UFC really elect to make Silva-Okami in place of a Silva-St. Pierre fight? That's like asking if you'd prefer getting kicked in the face over a foot massage.
Is Germany behind the times?
Given the reaction to the UFC's first Germany event earlier this year, you would have thought the promotion was hosting a public execution: lots of editorials, a call to ban the event and the inevitable reference to fragile little minds. In others words, it was the U.S.'s reaction to the UFC in the 1990s.
The UFC seems undeterred, plowing ahead with a second show and streaming the event online in the wake of a blackout on German television. While there's no right or wrong -- MMA is, like most things, a matter of taste -- it's unfortunate that German fans might have to suffer the same political suffocation that fans stateside have had to endure.
Are Duane Ludwig and Goran Reljic on the chopping block?
Both Duane Ludwig and Goran Reljic have posted losses in each of their past two bouts; three in a row often is the magic number for pink slips. How fighters interpret that increased adversity is interesting: Will they fight conservatively, minimizing risk in an effort to sustain employment? Or will they opt for an exciting fight in hopes that the action keeps them on the radar?
Is teenager Michael McDonald the next Vitor Belfort?
Michael McDonald, 19, has a 10-1 mark in a sport in which he might not be legally allowed to attend his own after-party. Teenage prodigies are nothing new -- Vitor Belfort was around that age in 1997, and Dan Lauzon fought at 18 -- but their pervasiveness might be increasing thanks to interest in MMA sparking in younger athletes. McDonald lacks the physical maturity, but his gas is probably good to go; it's another mixed set of skills that makes outcomes unpredictable.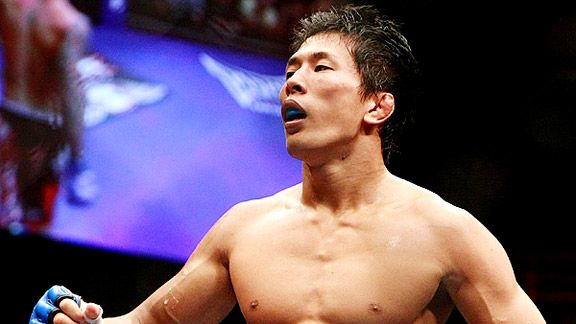 Dave Mandel for Sherdog.com
Takeya Mizugaki will be a tough nut to crack for a lighter (and less powerful?) Urijah Faber.
Red Ink: Faber versus Mizugaki
Despite uneven results on basic cable, the WEC was responsible for one undisputed draw in Faber, a 145-pound champion whose presence on a card could sometimes double ratings averages. He remains the only sub-155-pound athlete with major mainstream endorsement deals and -- for better or worse -- a spot next to fictional schlub Kenny Powers.
Because that 145-pound class seems to have outgrown him (Faber lost to both Jose Aldo and Mike Thomas Brown), reinvention is in order. The dry run is Thursday, when he meets Takeya Mizugaki in Faber's 135-pound debut. Mizugaki is notoriously durable -- so much so that he could stop Faber's third act before it starts.
What it means: For F
aber, a chance to breathe new life into his career at a time when it has the potential to be its most lucrative; for Mizugaki, a chance to net a big win over a big name.
Wild card: Faber was pretty lean at 145. Is losing muscle mass going to rob him of the power he's used to having?
Who wins: Mizugaki: tough. Faber: more to lose. They'll tumble around the cage, but Faber should get the better of it. Faber by decision.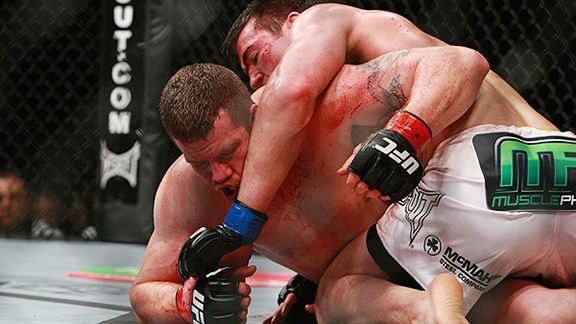 Dave Mandel for Sherdog.com
Nate Marquardt undoubtedly learned something about his wrestling in a loss to Chael Sonnen.
Red Ink: Marquardt versus Okami
In a sport in which the violence can often ruin game plans and composure, Marquardt is one of the most impressively disciplined fighters in competition. There's no wild haymaking, no foolish offense and no panic. He would make a good poster guy for transcendental meditation.
Marquardt's problem Saturday will be that Okami has a similar attitude; both men are likely to settle into a middle-gear fight with a deliberate pace. Okami can outwrestle Marquardt, but you'd expect that Marquardt learned a thing or two from his loss to Chael Sonnen. Conversely, it's going to be hard to put Okami in bad positions. This is a necessary fight, but it's impossible to believe either guy is looking forward to it.
What it means: For both, a chance for a place in the Anderson Silva queue.
Wild card: Marquardt stepped in for Vitor Belfort only two months removed from his last fight. Is eight weeks enough time to recover, train and peak for his toughest UFC bout to date?
Who wins: Marquardt is going to have a very difficult time pushing his normal pace against Okami, who can slow things down to his liking. That said, Marquardt's hands are just a bit sharper and his ground game a bit savvier. Marquardt in an ugly split decision.