Like it or don't, but it might not be long before the UFC becomes as synonymous with MMA as the NFL is with football. Not in the Kleenex sense, in which one brand is confused with the many generics, but in a one-ring-to-rule-them-all scenario, Frodo-style. It's not that the UFC will be the predominant banner. (It already is.) It's that it will be the only one.
[+] Enlarge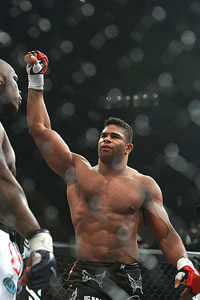 Dave Mandel for Sherdog.com
How is Strikeforce supposed to survive if a main attraction such as Alistair Overeem spends more time kickboxing overseas than defending his belt?
Through its first three "seasons," Bellator was mired in a bust of a TV deal with Fox Sports Net that made it difficult to establish any scheduling continuity with viewers. Strikeforce currently has a reportedly antagonistic "relationship" with CBS that was barely consummated with one show this past April. Japan's events are scrambling for survival. The UFC helped things along by absorbing the WEC, the second most successful MMA label in the industry. If you had been asked to invest in any of these ventures, how long before you would find a window through which to exit?
Thanks to a commitment from Showtime, Strikeforce stands the best chance of being here a year from now. Several fighters who can draw -- Cung Le, Gina Carano, Herschel Walker -- can't be pilfered by the UFC because their privileged (at times) matchmaking can't be duplicated by the promotion. Aside from whatever bag of money is afforded to Fedor Emelianenko, Strikeforce CEO Scott Coker has found a sustainable balance between creating entertaining cards and making payroll.
But with infrequent events on a pay-cable network, no pay-per-view presence and the "sharing" of fighters via nonexclusive contracts, it has become very difficult for Strikeforce to gather steam. Alistair Overeem is a marketable champion who has defended his belt exactly once in two years. A week after Strikeforce airs a card headlined by Dan Henderson versus Renato Sobral, Overeem will be in Japan, kickboxing. And Walker, who would be far and away Strikeforce's best chance at network success, is fighting on pay cable. What's wrong with this picture?
Because the entertainment industry is largely based on duplication -- it's easier to find investment money for a proven product than an original idea -- any corpse left by smaller promotions will be quickly replaced by another upstart. Maybe it'll have network support; maybe a few straggler fighters will help the launch.
These upstarts will hang on for a year or two at best. The UFC model can't be Xeroxed. There's too much depth, too much money invested in promotion and too much popular acceptance of the acronym.
Would a UFC-only MMA world necessarily be a bad thing? No one complains that Major League Baseball is the only game in town. The problem with the parallel is that teams within major sporting leagues can create a free market for athletes, driving up their price and permitting competitive negotiations. What happens when the UFC becomes a prizefighter's only venue to make money?
Tweet, tweet
Don't miss a moment of the latest MMA coverage from around the world. Follow us on Twitter and stay informed. Join »
In some ways, that's already happened. The money paid to Georges St. Pierre, Anderson Silva and Brock Lesnar could be significantly reduced and still trump any offers made by competing promotions. The UFC is often criticized for lowballing fighters as compared to boxing's huge paydays. But look at where boxing is. It hasn't invested in itself, and once the Manny Pacquiao-Floyd Mayweather Jr. mess is either realized or retired, the sport is in real trouble.
A UFC monopoly would be a guilty pleasure. We undoubtedly would see more of the big fights we want to see. But the price paid might be a climate in which athletes can be minimized, devalued and otherwise treated with disrespect because there's little chance for repercussions. If Rashad Evans doesn't appreciate the way he's being promoted or handled, what's he going to do? Go coach a high school wrestling team?
I enjoy the idea of compartmentalization. The fact that Overeem can't fight Cain Velasquez or that Frankie Edgar can't fight Gilbert Melendez is obnoxious. Competition should still be preferred, but only when it's a real alternative, not a drowning exercise.