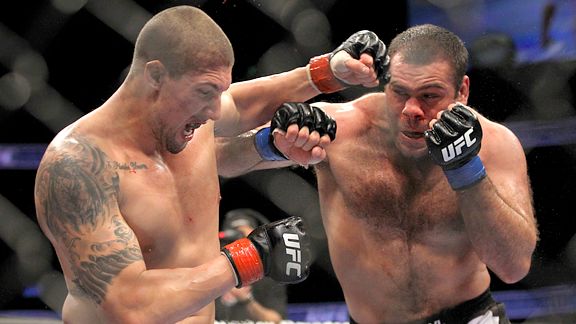 Ed Mulholland for ESPN.com
Gabriel Gonzaga, right, might be ready to hang up the gloves for good.
Fighters, like everyone else, are not necessarily the best judges of their own character, so the news that Gabriel Gonzaga intends to quit MMA following his release from the UFC shouldn't be taken as undisputed truth. But his reasoning might be a sign of things to come.
Tweet, tweet
Don't miss a moment of the latest MMA coverage from around the world. Follow us on Twitter and stay informed. Join »
Gonzaga told viewers on his video blog that he's "not going to fight for cheap money." The UFC paid well, he said, and other promoters may not "pay me what I think I should have to fight."
Gonzaga's financials are private, but between sponsorship deals, bonuses and guaranteed pay, he almost certainly had an annual income in the six figures. That standard of living becomes difficult to sustain when you begin shopping your services through the tier of mid- to low-range promotions, where he could see his salary cut in half -- if not more. Rather than panhandle, it seems like Gonzaga would just rather find something else to do.
With many promotions trying -- and failing -- to emulate the UFC's success, there are going to be fewer and fewer opportunities for castaways to try to regroup. Maybe Gonzaga could come back to the promotion stronger after a few solid wins in regional events. But without the financial incentive to try, we'll never know.