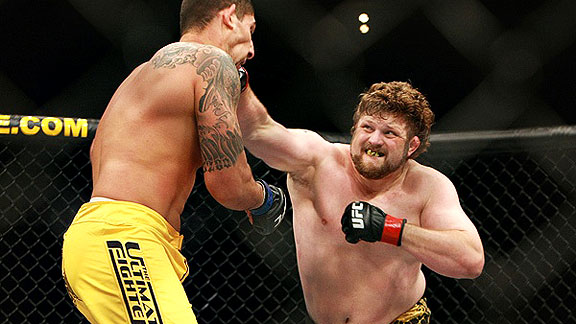 Dave Mandel for Sherdog.com
Roy Nelson's heavy right hand is the ideal learning tool for Brock Lesnar at this stage of the game.
The talk about Frank Mir taking on Brock Lesnar for a third time and the divide it has created among "learned" and casual fans reminds me a lot of the Ken Shamrock-Tito Ortiz series of 2006. In both cases, fans with a good working knowledge of the sport fell asleep at the prospect of yet another rematch; less devoted spectators got excited. In the end, Shamrock-Ortiz II and III delivered terrific business for the UFC. Lesnar-Mir III would undoubtedly do the same. Money usually trumps imagination.
Tweet, tweet
Don't miss a moment of the latest MMA coverage from around the world. Follow us on Twitter and stay informed. Join »
This is not intended to compare a geriatric Shamrock to Mir, who is still very capable. But with either fight, there's not really much suspense in the outcome. Lesnar is the worst possible opponent for Mir, a wrecking ball of a wrestler who has the ability to easily plant Mir on his back and pound away. Unless Lesnar's confidence is at an all-time low following the Cain Velasquez fight, the result isn't likely to be any different. And it's unlikely to teach us (or Lesnar) anything new about his abilities.
To his credit, Lesnar seems to recognize this. According to Bryan Alvarez of Figure Four Weekly, Lesnar's camp is requesting Roy Nelson as his next opponent. It's a perfect solution: Nelson is capable on the feet without being as savage as Velasquez or Shane Carwin, which will allow Lesnar to get in some stand-up ring time. And on the ground, Nelson is a highly capable jiu-jitsu threat, with more durability than Mir.
Where Nelson falls short is selling the tickets that Mir would. That should be OK. Rather than perceive the Mir fight as a missed opportunity, the UFC should realize that Lesnar's growing as a fighter means more fights from him -- and more money -- in the long term.