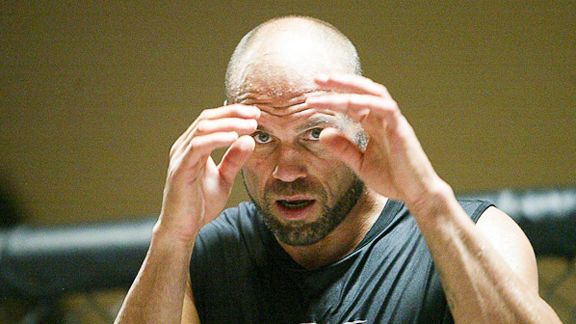 Jeff Sherwood/Sherdog.com
Randy Couture can go out a winner right now, or he can take his chances with the alternative.
Watch two video clips featuring Randy Couture from the past week and you'll get two different perspectives. While interviewing on "MMA Live," the 47-year-old Couture was noncommittal about his future in fighting, saying only that "I don't see myself making another run at the title." But in an interview with RawVegas.tv, he indicated he would match up well with either Lyoto Machida or Mauricio Rua. There couldn't have been more than a few days between quotes. What gives?
Fighting brings out a lot of contradictory emotions in athletes. Frank Shamrock, for instance, was notoriously unreliable. Prior to the Tito Ortiz fight in 1999, he said he was "going on a run." Instead, he fought only twice in the following six years. Later, he said he would fight for another decade. Instead, he retired over the summer. Now you see why managers are so pervasive.
Couture's problem comes down to the same curiosity that afflicts every prizefighter: When you're taking your stage bow, you wonder if you can't keep going. Maybe Couture won't be satisfied unless he knows for certain that he can't compete with the current crop of 205-pounders. The temptation to stick your hand on the burner is sometimes too great to ignore.
I enjoy watching Couture compete. He has one of the most unique stories in sports. But wouldn't it be refreshing to see a champion go out on a high note for a change? Isn't there a lot of residual goodwill around an athlete who isn't carried out on a stretcher? If Couture's future is in acting or product endorsements, there's a much better vibe that goes along with being thought of as a winner than as someone who stuck around too long.
Beating James Toney was a perfect finish -- noncompetitive, sure, but a resonant punctuation to the "rivalry" between boxing and MMA. Couture deserved to be the guy to put a stamp on that. He shouldn't look back.