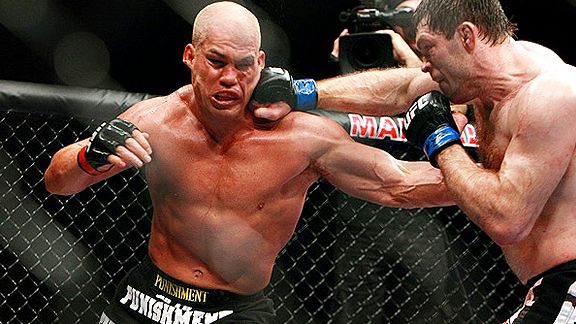 Dave Mandel/Sherdog.com
Tito Ortiz has been knocked around a bit of late, but he has been mostly competitive.
As we near the climax of Brocktober -- an obvious feeler program to get Brock Lesnar's birthday eventually recognized as a national holiday -- most media sources are primarily concerned with how the UFC's heavyweight champion will fare against Cain Velasquez at UFC 121.
(I think Lesnar loses.)
Sidebar story? Jake Shields trying to get through an academic fight with Martin Kampmann before fighting Georges St. Pierre.
(Shields probably wins.)
Only a fraction of that press is being devoted to Tito Ortiz, third on the bill for the first time in his career, as he prepares to face Matt Hamill the same night. How dramatic a drop is that? Of Ortiz's 23 UFC bouts -- virtually the entirety of his career -- 16 were main events; another three were the co-main and were bumped only due to a headlining title fight.
(Fans surely cared more for Ortiz's bout with Ken Shamrock -- God forgive them -- than the Tim Sylvia-Andrei Arlovski fight that proceeded it at UFC 61 in '06.)
This is the first time since his 1997 debut in a tournament (when "media" consisted of Usenet groups) that no one is talking about Tito Ortiz.
Unlike many of his contemporaries, the 35-year-old has not unraveled to the point that he has embarrassed himself in the ring. A record of 0-3-1 over the past four years? OK. But he was still competitive in fights with Lyoto Machida and Forrest Griffin. (Chuck Liddell was a bad day.) He is nowhere near the Ortiz of 2001, who possessed a particularly violent form of wrestling, but there has been enough in the reserve to keep him from being pitied.
What's keeping Ortiz off the front page now is that he was too good at his own game -- creating a persona that took the best of pro wrestling and transplanted it to a sport that was home to a bunch of generic tough guys. Ortiz was obnoxious and inflammatory; fans either enjoyed it or wanted to see him beaten into mush. Either way, they wanted to see him. It made him rich, and it gave the UFC attention at a time it desperately needed some.
It's an obvious gimmick, and it's no longer the exception. You can see Ortiz's influence today in guys like Dan Hardy, Chael Sonnen, Sean McCorkle and a laundry list of fighters who consider watching wrestling promos on YouTube part of training camp. It's no longer a novelty to see Ortiz insult an opponent. Compared to the guys just mentioned, he's not even particularly good at it.
If you can't stir the pot, you need results. Ortiz doesn't deliver those, either. Losing to guys like Machida and Griffin is far from shameful, but having to rationalize losses is a long way from enjoying wins. If you ignore the nothing rematches with Shamrock in 2006, Ortiz hasn't had a solid victory since beating a green Griffin in April of that year. He hasn't held the world title in seven years (or, using another unit of measurement, not since the original "Saw" film was released -- and we're now up to "Saw 7"). He says his famous mouth is shut because he respects Hamill, but isn't it really because there's nothing left to boast about?
I am not now and never have been any particular fan of Ortiz's, mostly because his act was too transparent and forced, and because his actual fights were rarely that epic. But there's something compelling about seeing a man previously perceived as a steamroller finding some humility and honesty in the later stages of his career.
If Ortiz can continue getting away from the overconfidence that now turns off more people than it attracts, he might find a more appropriate role: reinventing himself as the underdog.