[+] Enlarge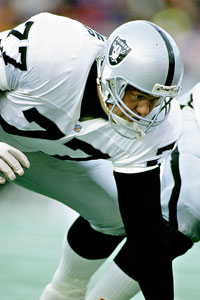 Al Messerschmidt/Getty Images
Think you can take this guy?
After being detained by a police officer in Missouri, ex-NFL player Rich Stephens is trying to arrange an MMA fight with the cop -- payback, he says, for the officer treating him harshly during a traffic stop and impounding his car for "no good reason."
Stephens is also apparently driving around town with a big billboard denouncing the officer, Tim Walker, as "short, fat and round."
(The implication is that it refers to Walker, anyway. Stephens might be referring to Curly from the Three Stooges.)
Following politician Mike Spears' challenge of rival David Vitter to a fight earlier this year, dueling appears to be making a big comeback -- with MMA being the weapon of choice. It beats pistols, but the problem of needing two willing parties remains: Walker has not responded to Stephens' challenge (and probably never will). It's also very possible Walker's side of the story would make Stephens less sympathetic. Whatever the case, it would be a legitimate grudge match. That's more than can be said for a lot of the manufactured "rivalries" shoved down fans' throats as soon as tickets go on sale.