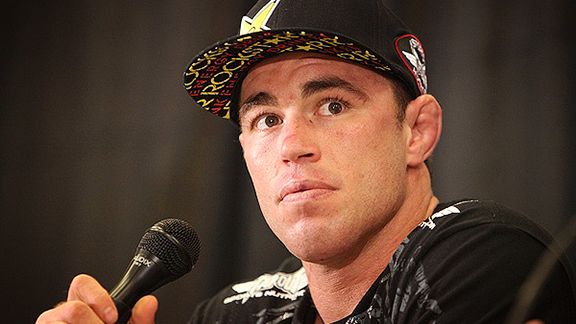 Dave Mandel/Sherdog.com
Forget earning a title shot. Jake Shields may be Georges St. Pierre's last hurdle at welterweight.
If Jake Shields beats Martin Kampmann at UFC 121 on Oct. 23, Dana White probably will match him against the winner of Georges St. Pierre-Josh Koscheck. This according to White during a Tuesday news conference for the Dec. 11 UFC 124 title fight.
Smart. Shields is the lone remaining challenge for St. Pierre, who is otherwise looking at a series of low-watt rematches against men who probably don't stand much of a chance to beat him. The Kampmann fight is essentially a "Hey, how's it going? I'm Jake" type of match for anyone unfamiliar with Shields. (He has won 14 in a row.) It's otherwise unnecessary: Shields could've come in off the street to challenge for the title, unless the UFC believes that would lend too much credence to his Strikeforce career.
The bigger curiosity is whether St. Pierre is looking at the end of his run as a welterweight. If he beats Shields, there currently are no bigger fish. John Hathaway might notch another name win and Nick Diaz might come back, but St. Pierre is otherwise too good for his own good. The public likes an infallible champion, but once we have one, we sometimes wonder where the suspense will come from.