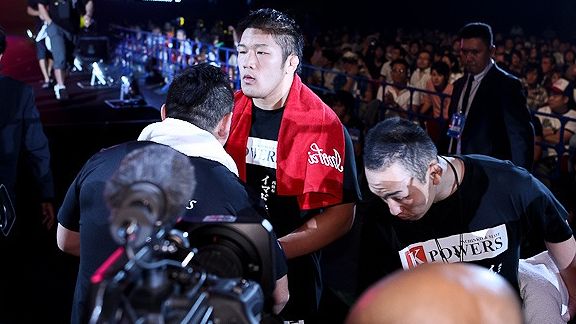 Taro Irei for Sherdog.com
Satoshi Ishii helped spike Dream's vital signs, but the promotion is still just hanging on.
The attention paid to any non-UFC product is usually a pretty good measure of the truly devoted fan base both here and abroad. If you're a die-hard, it would've been hard to miss the WEC's offering last week, which brought in nearly 500,000 viewers.
Last weekend's Dream event from Tokyo pulled in an 11.9 rating that spun the needle to 18.1 for Satoshi Ishii's bout with Ikuhisa Minowa. Not bad for a fight that was put together at the last minute and couldn't benefit from a lot of media attention.
Tweet, tweet
Don't miss a moment of the latest MMA coverage from around the world. Follow us on Twitter and stay informed. Join »
The numbers by no means take Dream off life support. FEG, the promotion's parent company, is still seeking a massive financial investment and there are anecdotal reports that fighters are being forced to wait for their fight purses. With the destruction of Pride and the faded skills of some of the sport's biggest draws overseas -- most notably Kazushi Sakuraba and Norifumi "Kid" Yamamoto -- Japan has suffered a steep decline in interest. It might turn out to be cyclical -- pro wrestling in the States has experienced some of the same decline and uptick -- or it might be an indication that only the biggest fights hold any appeal for viewers there.
There's no equivalent doomsday clock for the American promotions. The WEC grabbing its best rating in a year on the strength of Jose Aldo's status as a do-not-miss-this talent might stifle some of the talk surrounding a possible WEC/UFC merger. Although the sheer volume of UFC events could use some of the nearly guaranteed excitement the smaller weight classes offer -- it would have been nice to see Aldo follow the Frank Mir-Mirko "Cro Cop" Filipovic stinker -- there's not much incentive to cannibalize a promising brand. Far more likely is the UFC holding promotional crossovers by putting a Ben Henderson or Aldo title fight on a UFC pay-per-view. (Better: sticking a recognized star from the UFC on a WEC broadcast.) The WEC likely will never exist on par with the UFC -- but if the promotion isn't spending like the UFC, it doesn't have to be.