Every time a dominant champion is established, the same question comes up: Do audiences like seeing a man operating clearly above his competition, or do they grow bored if the suspense is leaking out of the bouts? Considering the purpose of titles is to find the best, it makes more sense that people would enjoy a clear and concise answer. Jose Aldo is providing it.
Tweet, tweet
Don't miss a moment of the latest MMA coverage from around the world. Follow us on Twitter and stay informed. Join »
The follow-up: When champions are this dominant, do they get too complacent? Anderson Silva, with 12 wins in the Octagon, has turned in several bizarre performances; Georges St. Pierre walked into a fight with Matt Serra giving him only the same respect fans did, which wasn't much. If Aldo ever develops similar boredom, he's vulnerable. If he insists on using the cage as a pommel horse, he might one day feel very stupid. Either way, Aldo's biggest threat in the WEC's featherweight division will probably remain himself.
Next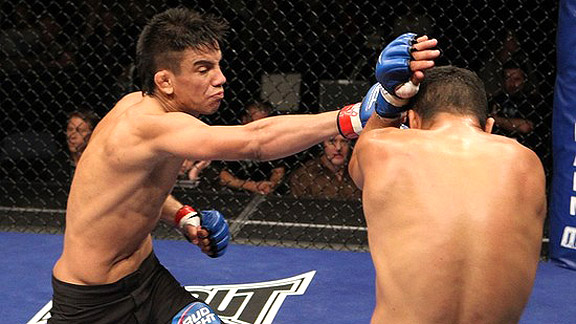 Josh Hedges/Zuffa/UFC
Miguel Torres got back to his winning ways by taking out Charlie Valencia.
Next for Aldo: Josh Grispi, a 14-1 athlete who faces Erik Koch on Nov. 11.
Next for Miguel Torres: Urijah Faber if he gets past Takeya Mizugaki in November -- that fight sells pay-per-views.
Next for Donald Cerrone: Chris Horodecki; deleting his Twitter account.
New questions: WEC 51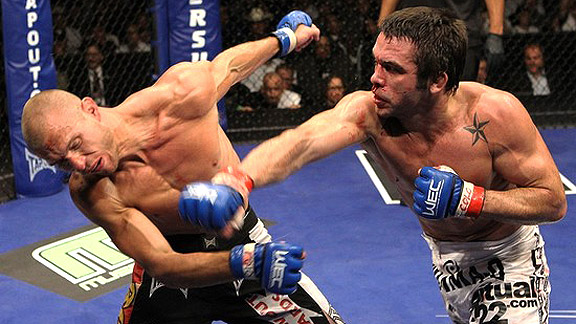 Josh Hedges/Zuffa/UFC
True (bad) blood: Jamie Varner, right, and Donald Cerrone let it all hang out.
Q: Is Aldo running out of options?
A: In blitzing Manny Gamburyan, Aldo took out one of the few remaining challenges for him in World Extreme Cagefighting. Josh Grispi remains a standout performer, as does Mark Hominick; Chad Mendes may have the wrestling to give him issues. But there's no one defining fight left for Aldo -- unless the WEC is able to capture the services of Joe Warren, a fairly tenacious wrestler who makes up for his lack of technical ability by being relentless.
There's always talk of Aldo moving up a weight class, and the UFC could certainly provide a better living in fight-of-the-night bonuses alone. But Aldo is only 24, which gives him years to grow into a bigger frame that might be better suited for the steamrollers of that division. There are potential challenges left at 145. Aldo should be interested in cementing a legacy in one class before rushing into another.
Q: Is Leonard Garcia being unkind to his own career?
A: Garcia is a take-three-to-give-one kind of fighter, which translates into an entertaining style for fans but doesn't stop to consider Garcia's longevity as an athlete. Against Mark Hominick, Garcia winged strikes with such unnecessary momentum that he left himself vulnerable; he was also wildly winded by the third round. Most of his losses are decisions -- stretches of time when he puts himself through the grinder. Eleven years in, he's one of the guys to worry about.
Q: Is Tiequan Zhang a sign of things to come?
Zhang, the WEC's first Chinese fighter, put Pablo Garza to rest with a guillotine choke Thursday, along with concerns that Chinese-bred fighters were far behind on the ground game. While it's still one win in one fight, Zhang's display couldn't have been better for an industry increasingly looking at China as the next big port of expansion.
A: Was Donald Cerrone-Jamie Varner one of the better first rounds in recent memory?
In a sport where grudges are often manufactured to drive ticket sales and attention, there's a genuine and obvious dislike between Cerrone and Varner. And while most of these "bad blood" fights rarely spill a drop in the first round, the two went at it like alley cats for the first five minutes of their bout. It's nice to see there are still some authentic rivalries alive and kicking.