Watch mixed martial arts for any length of time and you'll discover how dizzying its effects can be on your enthusiasm. A fight like Frank Mir-Mirko "Cro Cop" Filipovic, which dogged the weekend, can sink hearts. Thursday's Jose Aldo-Manny Gamburyan match is likely to make everyone forget all about it.
Aldo is in that amazing physical and emotional space where he's old enough to have power and skill but young enough to not realize he's mortal. He's fast, he's aggressive, and his "strategy" consists of not appearing to have any strategy. He just moves and reacts faster than everyone he fights. One day, he'll be defeated and his ego will leak. Until then, he's not going to put on a bad show.
The same is true for the WEC itself, which is populated almost exclusively by fighters who can't depend on overwhelming physical strength. That usually means a surplus of technique, without all of the cage-clinching that's becoming a significant part of big-guy MMA.
What: WEC 51, an 11-bout card from the 1st Bank Center in Broomfield, Colo.
When: Thursday, Sept. 30 at 9 p.m. ET on Versus.
Why you should care: Because Gamburyan is a fireplug with feet who has done an incredible job since dropping to 145 pounds; because -- dumb Twitter comments aside -- Donald Cerrone and Jamie Varner bring out the best in one another; because Miguel Torres is trying to halt a recent career slide and hungry fighters usually equal exciting fighters; and because anything has to be better than Mir-Filipovic, including a loss of signal.
Fight of the night: Cerrone-Varner, which should probably go longer than the can of compressed-air violence in the Aldo-Gamburyan bout.
Hype quote of the show: "I don't see any trouble. I know what he's going to do. He's going to throw a lot of knees, kicks, leg kicks, high kicks, low kicks. I know exactly his game plan." -- Manny Gamburyan, to MMAWeekly.com.
I know what a gun does. Doesn't mean I don't get shot.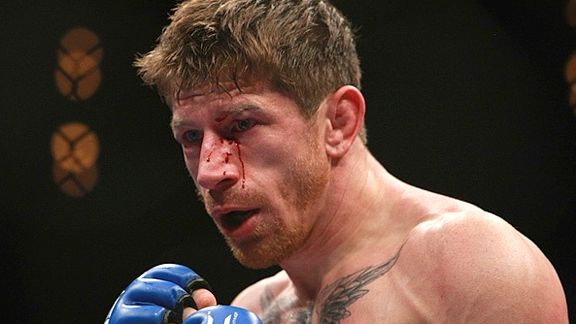 Dave Mandel for Sherdog.com
Now that his unbreakable aura has been replaced by two losses in a row, is Mike Brown on the outs?
Questions: WEC 51
What will it take to beat Aldo?
No weapons allowed? No chance. Aldo has won 10 straight, seven of which came in the highly competitive WEC, where he has stopped everyone but Urijah Faber. His striking is phenomenal, his wrestling counters are sharp, and he's never on the ground long enough to worry about submissions. It's not a style that will age too well, but he's only 24.
To slow down his footwork, you need to have a terrific lower-body attack with kicks; to suck the wind out of him, you need a guy who cuts a ton of weight to lean on him; in the late rounds, you need a wrestler who can take Aldo's tired body and plant it in one place on the ground. Aldo hasn't met that guy yet. And unless Gray Maynard wants to cut to 145, Aldo might never come across him.
Can China become a viable resource for MMA talent?
Tie Quan Zhang will become the first Chinese fighter to compete under the Zuffa banner when he meets Pablo Garza on Thursday. When you consider that China is the promised land for much of corporate America, it's obvious that this fight is about more than just a win-loss result. A population of billions can add a lot to your bottom line.
The problem is that China, like many countries late to adopt MMA, is a few years behind the talent curve. Grappling wasn't a strong part of the country's curriculum as recently as a few years ago, and no Chinese athletes have made any significant waves internationally. (The Chinese government typically subsidizes efforts that can result in Olympic medals, not tire endorsements.) Zhang's performance could indicate how far that population has come -- or how far it has to go.
Are Mike Thomas Brown and Miguel Torres fading out?
A little more than a year ago, both Mike Thomas Brown (who crushed Urijah Faber) and Miguel Torres (who was spoken of highly in the maddening pound-for-pound debate) seemed untouchable. Then Jose Aldo knocked out Brown, a feat repeated by Manny Gamburyan; Torres dropped two straight, both inside the distance, and was escorted away from the best-ever talk. MMA has a short-term memory.
Brown, 35, is nearly the featherweight's version of Brock Lesnar: all steam-powered aggression. He will remain a handful. Torres, age 29 -- and 10 pounds lighter -- is in a division that places greater value on speed. Both are looking at the possibility of a third straight loss Thursday. Although that may not make them any less dangerous, it certainly makes the chances of a long-term recovery a hell of a lot worse.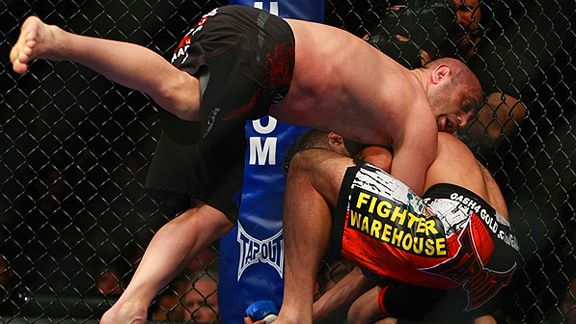 Dave Mandel for Sherdog.com
Manny Gamburyan's judo background is an advantage, but that may not hold back Jose Aldo.
Red Ink: Aldo vs. Gamburyan
One of the most direct and effective strategies in MMA is to be a terrific striker with fantastic takedown defense. Easy equation: If an opponent can't take you down, he's forced to stand -- and likely to lose.
Chuck Liddell and Cro Cop made long and lucrative careers out of this math, up until the point they met more devastating opposition on the feet. (It happens.) Jose Aldo hasn't, though, and it's why he's looking for an eighth consecutive win in the WEC's talent-rich cage.
Manny Gamburyan is not a better striker than Aldo, but he does have one enormous advantage: He can initiate unique trips and throws from the clinch thanks to a sturdy judo background. He's also built like a brick wall with legs. Power and unpredictability are another combination that has won more than it has lost.
Might look like: Aldo's fight with Brown, with the bigger bully being too slow to react.
Wild card: The ground scrambles -- Aldo is agile anywhere this goes.
Who wins: Close one. Gamburyan has found his natural weight class, but it happens to be one in which Aldo has all-time confidence. Gamburyan might muscle him down early, but who knows what happens to his slimmer body in the championship rounds? Aldo by TKO.