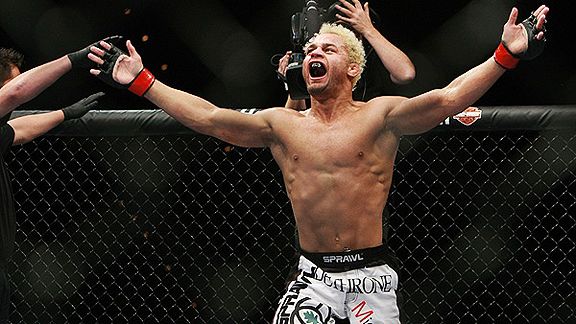 Dave Mandel/Sherdog.com
Sure, Josh Koscheck can be abrasive, but a dressing down by Dana White was just bad business.
For reasons that often elude me, Josh Koscheck is not a terribly likable figure. He isn't especially disrespectful to opponents, he always shows up well-trained and prepared, and he has discarded a blanketing wrestling game in favor of very credible striking.
Fans voicing displeasure with Koscheck's attitude is one thing, but the company chair doing it is another. Dana White was quoted last week as saying he "doesn't like" Koscheck, and then proceeded to use some kind of censored profanity to describe him. Is this really how you talk up your No. 1 welterweight contender?
Koscheck played it cooler, refuting White's claims that he isn't a "team player" and vowing to impress observers with his turn as a coach on Season 12 of "The Ultimate Fighter" opposite Georges St. Pierre later in the year.
Obviously White is privy to details that audiences are not, and it may be the case that Koscheck is a difficult personality. But what purpose does it serve to air that in front of a microphone? On top of every other stress a fighter has to negotiate, why make him feel uneasy at the administrative level?
It's probably no coincidence that White circulated these comments before the TUF 12 shooting. Tension between a coach and the boss is good ratings fodder. But if it's a genuine sentiment, White should probably realize that his "feud" with Tito Ortiz did him few favors. Don't athletes spread enough hostility around without promoters needing to add to it?