If someone could be bothered to construct one of those fancy USA Today-type graphs, you could chart a pretty clear ascendancy of effectiveness in the UFC career of Mauricio Rua.
In his debut against Forrest Griffin -- the barely perceptible starting blip -- he faded after a few minutes and wound up eating only the second submission loss of his career.
He didn't look a whole lot better against Mark Coleman, but at least he managed to pull out a win with only seconds to go. (The bar goes a little higher.)
Against Chuck Liddell, he delivered an efficient and clean knockout. (Getting up there.)
Against Lyoto Machida, he lost to the undefeated light heavyweight champion, but many believe he deserved the decision. (Bar scraping the ceiling.)
This is progress.
You would think that fighters like Rua, who spend the majority of their careers competing under Japan's Pride rules, would have an easier time adjusting to American regulation. They have additional rest periods, which offer a chance to take more risks closer to the bell; they usually get more than a few weeks' notice to prepare. And handing elbows back to a Muay Thai specialist (Pride forbids their use) is a pretty generous offer.
But Rua struggled, as many of the Pride ex-pats do, in part because of the cage. (And a seriously aggravated knee.)
When fighters accustomed to plying their trade in a ring back up, their heel actually hits a solid object; they can't contort their bodies against the give of the ring ropes; a cage corner isn't as sharp or as trapping as a ring corner. Preparing to fight near a fence is like preparing for a second opponent.
If Rua has finally found his comfort level after four fights, it's an additional concern for Machida, the counterpuncher who is used to establishing his presence and never moving in a direction that's uncomfortable. The last time Rua was in full control of his abilities, he won a Pride Grand Prix title.
Still only 28, there's no telling how far off the charts Rua can go.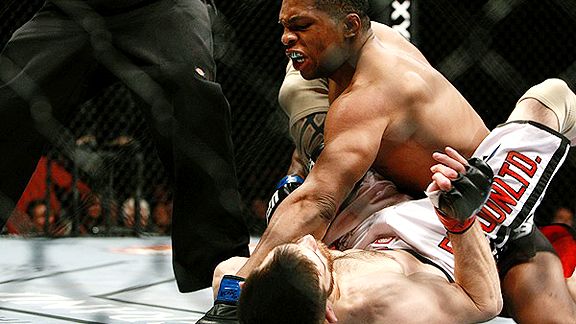 Sherdog.com
The Daley show: Paul Daley's power and technical prowess make him a force to be reckoned with.
What: "UFC 113: Machida versus Shogun 2," an 11-bout card from the Bell Centre in Montreal
When: Saturday, May 8, at 10 p.m. ET on pay-per-view
Why you should care: Because Machida and Rua represent some of the highest levels of multilevel striking on display in MMA; because any sturdy takedown defense by Paul Daley against Josh Koscheck could turn Daley into an intriguing opponent for Georges St. Pierre, who is badly lacking in the adversary department; and because Kimbo Slice, limited as he is, still has his puncher's chance against Matt Mitrione.
Fight of the night: Daley-Koscheck. There are technical fighters and violent fighters -- Daley happens to be both.
Hype quote of the show: "He's not that great a wrestler. His takedowns have been stuffed by almost every opponent he's faced. He can't kickbox for crap, not if his life depended on it. If he tries to stand with me for even a second, I fear for his well-being. And his ground-and-pound is crap. If he grounded-and-pounded me in my sleep, he'd barely have enough power in his punches to wake me up." -- Daley, to ESPN.co.uk.
Four questions: UFC 113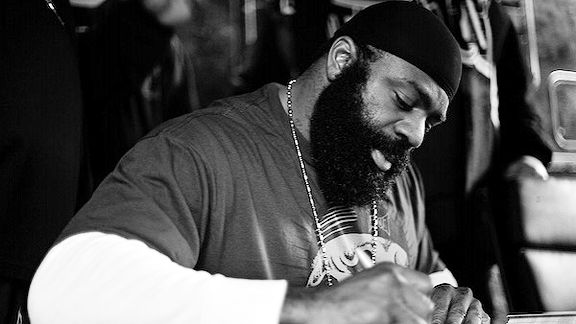 Stephen Albanese
Larger than life: Kimbo Slice will cut it no matter where he fights.
Q: Is Kimbo nearing his term limit?
A: In the heavyweight division, there is probably no safer way to book Slice than against Mitrione, a fighter of even less experience who could be better standing but is worse in grappling. Slice might beat him and he might not, but either way, the UFC appears to be zeroing out on keeping Slice from the more dangerous athletes on the circuit. (If Slice could make 205 pounds, as hinted at with a catch-weight fight against Houston Alexander in '09, the field opens up slightly: What Tito Ortiz and Chuck Liddell hold in experience, they give up in ring wear.)
If the UFC runs out of options, Slice himself will be just fine: Like "Tank" Abbott and a series of Japanese fighters before him, audiences are more interested in his charisma than his record. He'll have no shortage of employers.
Q: Will we see Machida shoot?
A: If Machida experiences as much discomfort against Rua in their rematch as he did in October -- Rua used leg kicks to slow his mobility and stifle his leaping attacks -- we might see a less prominent component of karate: ground fighting. Machida is an effective grappler who outworked Kazuhiro Nakamura and Rameau Sokoudjou; Rua is no spectacular threat from his back as long as Machida watches out for his feet.
Q: Is Koscheck reckless?
A: Koscheck has the ability to put virtually anyone down at any time -- yet he often insists on measuring his hands against anvils. It's no big wonder: The UFC's incentive program offers bonuses for finishes, not for wrestler of the night. But against Daley, Koscheck -- who might have been bolstered by his ability to hang in there against Anthony Johnson in his last fight -- could be taking the path of greater resistance.
Q: Is Marcus Davis on the bubble?
A: Good hands and a solid chin helped Davis earn a 6-0 record in his early UFC outings; better competition has slowed him to 2-3 in his past five. The decline reached saturation point when Davis was knocked out for the first time in his career by Ben Saunders in November. Fighting Jonathan Goulet on Saturday is encouraging -- Goulet, tough as they come, isn't gunning for any titles -- but if Davis cannot drop him, it's a bad sign for the future of his Octagon residency.
Red Ink: Machida-Rua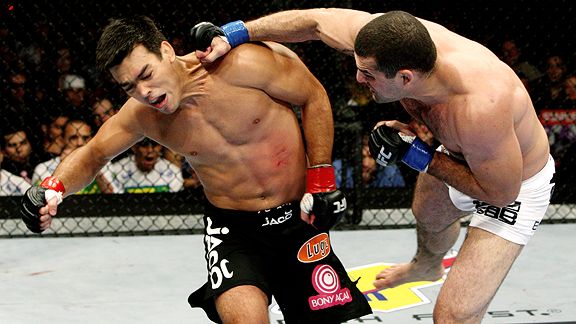 Josh Hedges/Zuffa/UFC
Will one well-placed punch by Mauricio Rua in their first fight have lingering effects in his rematch?
They share fighting as a profession, but Machida and Rua are otherwise stark opposites: Machida serves his father's karate like a spiritual subservient, and Rua's Chute Boxe origins are only one step removed from gym-sanctioned dogfights. His Muay Thai style, honed in that environment, treats opponents like criminal attackers; Machida's conservative approach is almost apologetic in its violence.
When the two met for a title bout in October, Rua's aggression was muted by Machida: Rua found most of his success landing to the legs and refusing to allow Machida to remain in his comfort level outside of range. For fans who consider Leonard Garcia-Chan Sung Jung the zenith of prizefighting, it was a slow fight. For people who like their combat sports more measured and thoughtful, it had the dignity of an art film.
For their rematch, Rua likely will continue the game plan that gave him a controversial loss in their first bout: attack Machida's legs, reduce his mobility and negate his offense. The difference: Rua will have to open up more to deliver the kind of damage that impresses judges intoxicated with Machida's vaunted defense.
What it means: For Machida, a chance to erase the controversy over a debated win the last time he faced Rua; for Rua, an opportunity to make good on the potential he's been chasing since arriving in the UFC.
Wild card: Machida's recently discovered mortality: Rua landed a big punch in the first bout that froze Machida's offense. That memory is going to be lurking somewhere in Machida's head Saturday.
Who wins: Rua has never lost a rematch, but Machida's best asset is his consideration of strategy. He has had six months to figure Rua out, and that's probably enough. Machida by decision.