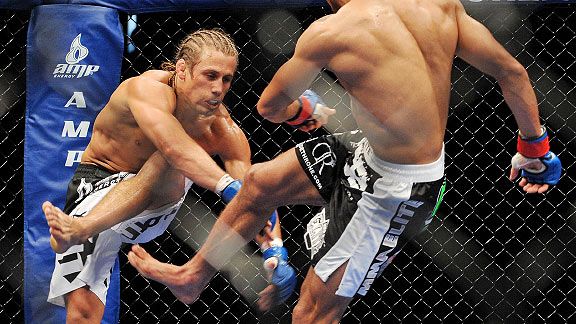 Jon Kopaloff/Getty Images
On his last legs: Did former featherweight king Urijah Faber peak too early for his own good?
It does not take a coach or a book to understand that fighters train to peak at the right time. Camps build toward a fight date so that athletes are in the best possible condition without falling into the exhaustion of too much work, too much pain and too much sweat. It's the difference between a therapeutic dose of medication and a toxic one.
The idea of timing your skill to the right calendar date can also apply to an entire career. The catch is, fighters can't plan to be at their lifetime best when it's most beneficial for them. Frank Shamrock might have been the pound-for-pound greatest in 1999 when he looked sensational in a four-round war against Tito Ortiz. Today, that kind of fight would send him into the stratosphere. But the UFC couldn't afford to keep him, and his prime years were largely spent on the couch.
Urijah Faber's best might have come during the latter part of the last decade. Now that his World Extreme Cagefighting employer is breaking into the lucrative pay-per-view market and a livable wage is suddenly an option for smaller men, Faber may find that he peaked too soon.
Against Jose Aldo on Saturday, Faber discovered that his speed was no longer unmatched and his shot no longer effective. Aldo breezed out of the way of his strikes, shrugged off his clinch, and landed a steady thump of leg kicks to Faber's thigh that eventually crippled him. It turned into a night when Faber was applauded for surviving, not attacking.
The bout follows two tough losses to Mike Thomas Brown, a bear of a 145-pounder who completely shut down Faber's grappling. Instead of looking invincible, Faber has gone 1-3 at a time when his skills would be most appreciated.
It's not his fault, obviously: The body takes only so much instruction before it does its own thing. And as time wears on, going the distance with a mauler like Aldo may wind up being a remarkable achievement. (The champion has stopped his last six opponents.) Faber will continue to draw, but based on the force of his personality and fight style, he won't get the same results. He'll cash checks, but perhaps not in the amount a championship would bring.
In fighting, everything comes down to timing. Faber just didn't have it.
Next for Aldo: Lots of talk about moving to 135 pounds and eventually 155 pounds. He might not want to overlook potential contender Manny Gamburyan, who looked like a pitbull in taking out Mike Thomas Brown on the undercard.
Next for Faber: Reinvention. He's too small for 155, but a drop to 135 isn't unrealistic.
Next for Ben Henderson: Most expected a summer sequel to his five-round war with Donald Cerrone; observers cautioned him to look out for Cerrone getting a submission. Instead, Henderson strangled him purple. Having already done the same to Jamie Varner, Henderson might be outgrowing the WEC's limited lightweight field. If Aldo is serious about wanting to challenge himself, a Henderson-Aldo main event for the WEC's second pay-per-view would be a high-voltage attraction.
Awards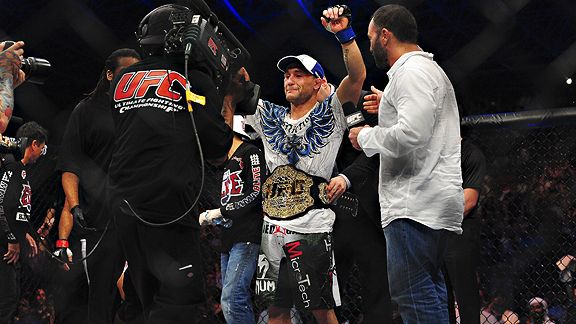 Martin McNeil for ESPN.com
Hey, Zuffa: Remember Frankie Edgar? The man who beat the man for the lightweight title?
The we-know-what-you're-saying award: Kimbo Slice, for creating the term "commitmentship" to describe his dedication to MMA.
The blank slate award: Zuffa, for erasing virtually all trace of the World Extreme Cagefighting brand from its highly touted pay-per-view debut. Introducing Henderson as "the lightweight champion" makes Frankie Edgar what, exactly? "A" lightweight champion? "One of" the lightweight champions? Or just annoyed?
The Sloppy Joe award: Leonard Garcia and Chan Sung Jung, for delivering a haymaker-heavy fight predicated on that $65,000 bonus that was either one of the most exciting things you've seen or one of the most embarrassing.
The mind games award: Dana White, for being seen with an arm draped around Strikeforce's Jake Shields. (We're one pencil-eraser 'do and a couple of mini flags away from a complete metamorphosis, gang.)
New questions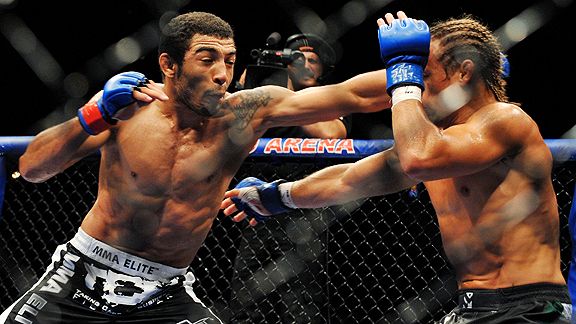 Jon Kopaloff/Getty Images
After just one title defense, is Jose Aldo already setting his sights too high for his own good?

Q: Has Zuffa stuck it to Versus?
A: During the postfight news conference, White elaborated on the lack of a WEC presence in the promotional material for the event: Stripping it meant he could promote the show on Viacom-owned stations like MTV and Spike without voiding any exclusivity agreements with the Versus channel.
The legal parameters make sense, but only on a superficial level. Why would Versus ever object to seeing the WEC brand get a burst of mass exposure on other cable networks? If the hurdle came from Spike, which may not want to promote the brand of a rival network, why bother agreeing to showcase fighters who may wind up fighting on another channel?
And if the rationale was completely without conspiracy and Zuffa simply needed the power of bigger networks to push its wares -- what is it doing on Versus in the first place?
Versus is an under-the-radar network: The WEC represented an opportunity to create a destination channel for fight fans. Getting completely eradicated from a high-profile pay-per-view promotion is a giant leap backward.
Q: Is Aldo too ambitious for his own good?
A: For reasons unknown, fighters managed under Ed Soares enjoy voicing some lofty goals. Lyoto Machida wants Brock Lesnar; Anderson Silva wants Roy Jones, then Frank Mir. Now Aldo wants title bouts at 135 and 155 pounds, despite having only defended his 145-pound title one time. Is it really ambition, or a desire to break out of the financial ceiling of their current slot?
Q: Where does Faber go from here?
A: The idea that one fighter is responsible for the fortunes of an entire fight promotion is a foundation built on sand, a lesson Affliction and ProElite learned the hard way. It's to the WEC's credit that its star, Faber, was at least a genuine competitor who could live up to the hype. For a while.
Aldo was one of his remaining chances to return to the top of the featherweight division. If it was competitive, a rematch would've been lucrative. Instead, Faber was systematically demolished after a competitive first round, leaving him with little business left in the class.
Moving to 155 made sense when he was making short work of his competition: Now that his division has advanced, it's not a promising decision. A better fit would be 135 pounds, where matches against Brian Bowles, Miguel Torres, or champion Dominick Cruz would provide some clean-slate promotion.
Etc.
• If Jung felt wronged in a split-decision loss against Garcia, earning $65,000 for Fight of the Night eased his frustrations considerably. Their collective purse was probably the richest in featherweight history outside of Faber or Japan.
• Aldo outstruck Faber 126 to 39 in their 25-minute title bout. Faber went 0-5 in takedown attempts. If Faber did indeed pass the torch Saturday, he got burned doing it.
• MMAJunkie.com reported a $1 million gate paid by more than 14,000 spectators in Sacramento's Arco Arena, a WEC company record for an event that bore no sign of the WEC brand.
• Pay-per-view promotional material on InDemand's website contained lots of WEC language, indicating that a complete whitewash wasn't always on the books: That material is frequently submitted to companies months in advance.
• Lost in the hype of the weekend: The retirement of Hidehiko Yoshida, who debuted in 2002 and had two very memorable fights with Wanderlei Silva during Pride's primetime days in Japan. He lost a decision to fellow Judoka Kazuhiro Nakamura. The night went more smoothly for a returning Enson Inoue, who submitted Antz Nansen in just over a minute. Inoue had not fought for six years; Antz, presumably, was picked on from first grade onward. The promotion, Astra, picked up a crowd of more than 10,000, solid by U.S. standards but a far cry from the golden age of that country.
• White outed Mike Thomas Brown as having personal issues preceding his loss to Gamburyan on Saturday. Emotional problems are an obvious drain, but that kind of talk doesn't do Gamburyan many favors.