Rankings always have been and always will be subjective. Different organizations have different rules, environments and standards, which makes any kind of uniform evaluation impossible. Even promotions within the same executive offices -- the UFC and WEC -- differ. The WEC has a smaller ring, which forces fighters to be less evasive.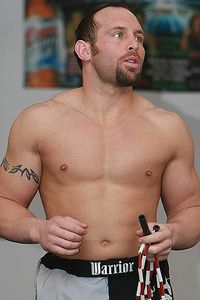 Dave Mandel/Sherdog.com
Shane Carwin arguably has done enough in recent bouts to warrant a move up the heavyweight ranks.
How would Lyoto Machida handle that? Would Shinya Aoki have fared any better in grappling pants and a ring against Gilbert Melendez last Saturday? Would Randy Couture's cage clinching be erased against ropes? And on and on.
The Sherdog.com staff does what it can, and its rankings generally is a pretty agreeable list. The only thing I'd take a wrench to on the current list of top 10 divisional fighters (which I do not vote on) would be to switch places between No. 4 heavyweight Shane Carwin and No. 3 Cain Velasquez. Both men took on their share of underqualified opposition, but Carwin's 1-2 demolitions of Gabriel Gonzaga and Frank Mir probably are a more impressive combination than Velasquez's getting wobbled against Cheick Kongo and sweeping the remnants of Antonio Rodrigo Nogueira out of the ring.
The next major shake-up could happen Saturday, when Urijah Faber might conceivably scrap his No. 3 ranking in a good performance against No. 1 featherweight Jose Aldo -- which would see No. 2 Mike Brown simply implode from the list. He beat Faber twice but lost to Aldo. That's the kind of dynamic that makes me very happy this isn't my headache.