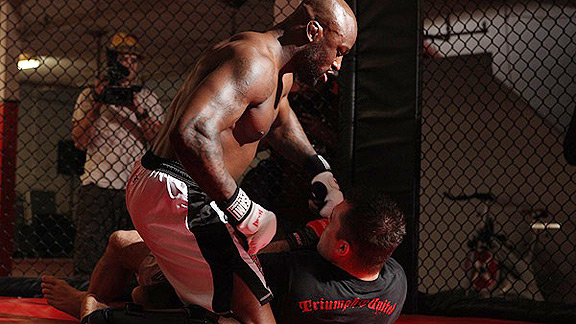 Dave Mandel/Sherdog.com
Muhammed Lawal's wrestling skills might prove to be the X factor against Gegard Mousasi.
With the dissolution of Pride and much of the big-ticket Japanese scene, the UFC has experienced virtually no major defections of talent in the past five years. Tito Ortiz threatened, but eventually relented; Fedor Emelianenko, the highest-profile missing person, was never theirs to begin with.
What is remarkable about Saturday's Strikeforce card (their second for CBS) is that it will feature the first Zuffa-endorsed, highly visible, highly competitive athlete to walk away from that promotion voluntarily.
Dan Henderson, while not nearly the draw of major UFC stars like Brock Lesnar and Georges St. Pierre, has still benefited enormously from the UFC's promotional pull. His appearance against Michael Bisping at July's UFC 100 was seen by a record 1.5 million pay-per-view households; The Wrestling Observer estimates 16 million people in total watched that event. He also notched a free-TV title merger (a loss) with Quinton Jackson in 2007. The only thing he missed was "The Ultimate Fighter" coaching position. To some minds, that's probably a good thing.
Henderson now becomes a rare entity for a competing promotion: a face already familiar to fans. If he draws attention and becomes a dominant champion, Strikeforce's investment will be seen as strategic and worthwhile. If he siphons energy from the crowd and tosses a brick, they'll be mocked -- especially by Dana White -- as free-spending failures. It's a lesson in how fragile the MMA business really is: Any executive lauded for his deal-making is still at the mercy of the guys in the ring.
What: Strikeforce: Nashville, a 10-bout card from the Bridgestone Arena in Nashville
When: Saturday, April 17, at 9 p.m. ET on CBS
Why you should care: Because Jake Shields, so dominant in his career as a welterweight, might finally look not only human but fragile in a middleweight bout against Henderson; because Muhammed Lawal, long derided for taking fights beneath his abilities, is taking a gigantic step up in competition against Gegard Mousasi; and because anyone hoping for the unsporting Shinya Aoki to be taught a lesson will probably be satisfied by how Gilbert Melendez treats him.
Fight of the night: Henderson-Shields, a bizarre matchup between an elite welterweight and a savage middleweight that might act as a canary in a coal mine for Georges St. Pierre's middleweight aspirations.
Hype quote of the show: "The thing is, when you have a well-rounded fighter … he's a boring fighter. … If you're well-rounded you have nothing to fall back on. Where if you're a great striker, average grappler and average takedown defense, you can knock somebody out. If you're a great wrestler, you can take somebody down and ground-and-pound them. Make it exciting. Nobody cares about a well-rounded average fighter." -- Lawal, clearly a fan of 1998, to FiveKnuckles.com.
Four questions: Strikeforce: Nashville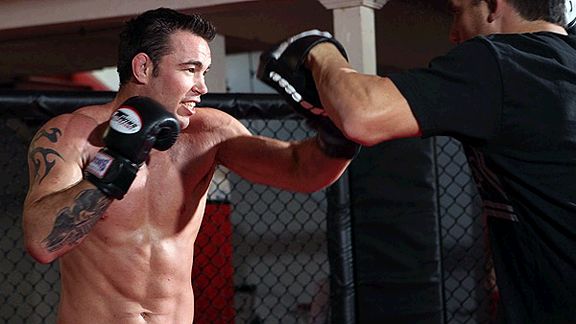 Dave Mandel/Sherdog.com
Is Strikeforce gearing up to show Jake Shields the cage door?
Q: Is Shields getting a raw deal?
A: Probably not. The conspiracy theory goes that Shields is being fed a meal he can't digest in Dan Henderson, and that it might be attributable to this being his last contracted fight with Strikeforce.
But it was Shields who opted to move up to middleweight last June, months before Henderson's signing was even floated. If you're the champion, you have to tackle the opposition. Henderson is debuting, but a 12-year career doesn't just evaporate. He deserves the shot. If Shields doesn't want monsters, don't go looking under the bed.
Q: Is great wrestling better than great fighting?
A: Wrestling is the one true skeleton key of MMA: You may not win all the time, and you may not look competent standing, but a good amateur can take virtually anyone off of their feet. Joe Warren beat former consensus No. 1 featherweight Norifumi "Kid" Yamamoto in only his second career fight; Rulon Gardner defeated Hidehiko Yoshida in his only fight, period. Wrestling works and will continue to work.
Muhammed Lawal will either reinforce the idea or put a dent in it. Against Gegard Mousasi, he's up against better striking, submissions and experience. One strong dimension against three solid dimensions is a story that never seems to exhaust itself.
Q: Will Aoki miss his magic pants?
A: Shinya Aoki is a rare find in U.S. MMA: a Japanese fighter coming into American territory while still in the prime of his career. His technical acumen has conquered Eddie Alvarez (in his only submission loss), Mizuto Hirota (only submission loss), Joachim Hansen and JZ Cavalcante.
Aoki is not a hooks-in, rear-naked kind of athlete; he searches for submissions using long, wire-tense legs covered by nonskid leggings that help smother the effects of sweat. In the U.S., he won't be allowed to use them, though it's possible he could use the same spandex shorts/knee wrap combination seen on George Sotiropoulos in a recent UFC bout. Against Gilbert Melendez, he'll need every advantage he can carry in.
Q: Will Henderson draw?
A: Henderson received tremendous exposure as a participant in July's heavily marketed UFC 100 card. He couldn't have performed better, scoring a crushing KO over Michael Bisping that had infinite replay value.
The question: Did Henderson create a following for himself that night, and did those viewers retain interest during his nine-month sabbatical? Henderson gets a good reception in attending events, but the applause-o-meter doesn't set ad rates. If his quarter-hour leads to a spike in ratings, he'll have made a wise decision. If both he and the show tank, it'll be a long wait until Fedor Emelianenko commits to another fight.
Red Ink: Henderson-Shields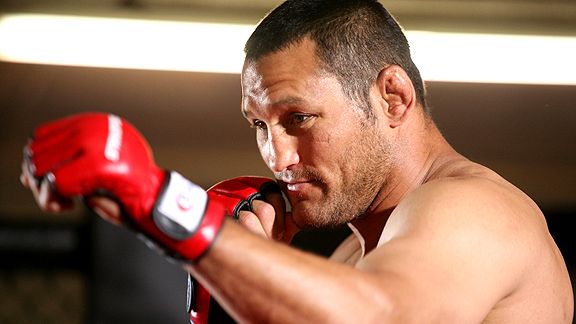 Valerie Macon/Getty Images
Dan Henderson is a throwback who just might have enough left to turn back Jake Shields.
Few athletes who made their debut in the mid-1990s could be considered contenders in 2010: Age, ring wear and all the wrong kinds of training make for careers that come to unceremonious ends.
Henderson, who first climbed into a cage in 1997, is now preparing to enter his 14th year as a mixed martial artist. There have been losses by submission and decision, but -- incredibly -- none by knockout. At a natural body weight in the low 190s, he barely cuts to make middleweight and has sometimes obliged Japan's request that he fight heavyweights. They don't make them like Henderson anymore, if they ever did.
How Henderson has survived in such a brutal and physically debilitating activity is due in part to his early and inadvertent cross-training: He's a wrestler, but he learned that his right hand was live dynamite. It has kept opponents wary of him and has led to some spectacular stoppages, including a highly visible victory over Michael Bisping at UFC 100. At 39, he's not winding down but winding up.
Shields -- his first opponent for Strikeforce and the man who could hand over a middleweight title of iffy significance -- is perceived as a welterweight in over his head. Win or lose, this could be Shields' last fight for the San Jose-based promotion. Dispatching Henderson would be a powerful negotiating tool.
Hinges on: Shields' seeming inability to take the fight to the ground, where his submission skills give him a much better chance than his striking.
Might look like: Henderson's fight with Rousimar Palhares, a steady series of stuffed shots and sadistic retaliation.
Wild card: Despite appearances, Shields probably doesn't walk around any smaller than Henderson's casual weight. The mismatch might come in the wrestling, not Shields' physical inferiority.
Who wins: Shields is a younger, possibly faster, skilled submission artist, but this never has to go to the ground if Henderson doesn't want it to. Henderson by decision.
Update: Error correction: Henderson was a coach for the ninth season of "The Ultimate Fighter" opposite Michael Bisping. Just when I'd managed to forget most of that series, readers helpfully reminded me. Thanks. A lot.