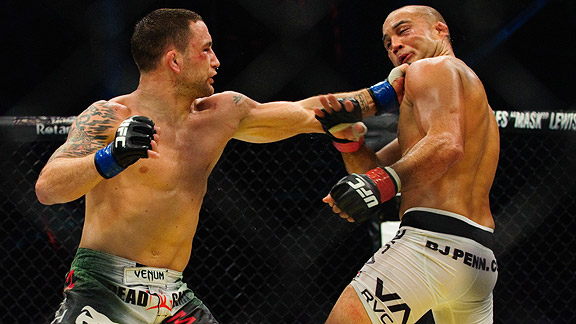 Martin McNeil for ESPN.com
B.J. Penn, right, wants to rewrite history and get back at Frankie Edgar as soon as possible.
Most of the attention over the weekend fell on Anderson Silva's basket-case behavior against Demian Maia, with only marginal importance given to B.J. Penn's closely contested loss to new champion Frankie Edgar. But the latter might wind up having the greatest number of victimizations.
Think about it: B.J. Penn made media rounds this week to promote an autobiography, and he all but guaranteed a summer rematch. That gives Edgar just enough time to sober up from the homecoming party before he begins sweating it off in the gym again. There's something genuinely demoralizing about being asked to climb Everest, barely reaching the top, and then being asked to do it all over again.
Gray Maynard: Speaking to Yahoo Tuesday, Maynard thinks he "blew it" by not casting himself as an obnoxious and verbally aggressive entrant. This is Dan Hardy Syndrome, and its effectiveness is well-documented. But Maynard has deserved his bid for a long time now. Penn/Edgar II leaves him to either sit and marinate in disappointment or risk his shot by taking another fight.
Penn: It must be pretty awkward to go on a book publicity tour the day after you lose for the first time in over eight years in your natural weight class. Penn's 170-pound ambitions are out the window for the time being. (Bad for him, good for us: he'd be terrorized there.)
Douglas Crosby: The longtime MMA judge drew heat for giving all five rounds to Edgar, generous by any standards. Instead of either articulating his choices or simply shutting up, he went on a bizarre Internet spree of Scrabble-vomit essays that explained nothing except a tendency to skip his medication. There is a certain posture that should accompany a sports official -- judge, ref, or commissioner. Crosby made himself look like a hunchback.
The fans: Edgar/Penn, to put it plainly, was not that exciting. Penn's stalking and Edgar's beehive countering does not make for fireworks. Five rounds were enough. Ten might be too many.