It's not exactly the Thrilla in Manila, but the UFC's first trip into the Middle East still represents a progression of fighting sports previously left to media and satellite signals. (Boxing is too disorganized to even attempt T-shirt sales, let alone global expansion.)
A worldwide infection of Ultimate Fighting is the goal, and while that may be too optimistic by half -- revulsion in areas such as Germany will always be a thorn -- a major event in Abu Dhabi is a milestone. It was only a few years ago that Sheikhs hosted grappling-only tournaments, paying sizeable purses to fighters including Mark Kerr and Ricardo Arona without any interest in introducing strikes. Now Anderson Silva, the best MMA striker in the world, is having an arena built for his participation.
Tweet, tweet

Don't miss a moment of the latest MMA coverage from around the world. Follow us on Twitter and stay informed. Join &#187
It's impossible to say whether fighting will ever be the one definitive sport that ignores cultural differences: Dana White is certainly not a peacemaker, even if he does share Gandhi's sense of style. But somehow, his promotion has arrived to the point that an Octagon has been built in Abu Dhabi to house several Brazilians, a Hawaiian, a few Brits and a kid from Toms River, N.J. Something has happened.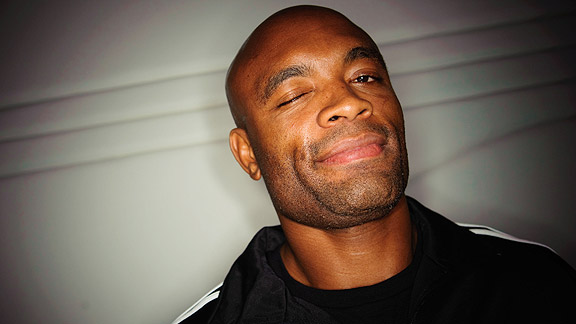 Martin McNeil for ESPN.com
Reason to smile: Anderson Silva is gunning for a record 11th win inside the Octagon.
What: "UFC 112: Invincible," an 11-bout card from Ferrari World in Yas Island, Abu Dhabi, United Arab Emirates
When: Saturday, April 10, live at 1 p.m. ET with a replay at 10 p.m. ET
Why you should care: Because Silva is going for a record 11th consecutive victory in the Octagon while opponent Demian Maia is going for potentially the most shocking win of his -- or anyone's -- career; because B.J. Penn's ability to stuff his fist down the throat of opponents will be tested by Frankie Edgar throwing two for every one eaten; because Renzo Gracie is one of the last of the sport's true 1990s pioneers; and because, after 17 years of arena competition, an outdoor Octagon is something new and weird and incredibly interesting.
Fight of the night: Penn-Edgar, two guys who probably can't take down the other and will instead slug it out for at least three rounds.
Sleeper fight of the night: Matt Veach-Paul Kelly, two guys who season everything with aggression.
Hype quote of the show: "One of the conditions that I had when I told them that I was going to go back and fight was that I don't want to fight no tomato cans … I want legit fighters, and if I have to go back in there, I want to get the toughest that you have. They offered me Matt Hughes, and I couldn't be more pleased. I believe you can only make history if you fight people who will help you make history." -- Gracie, who should probably do everyone's talking at every event, to UFC.com.
Five questions: UFC 112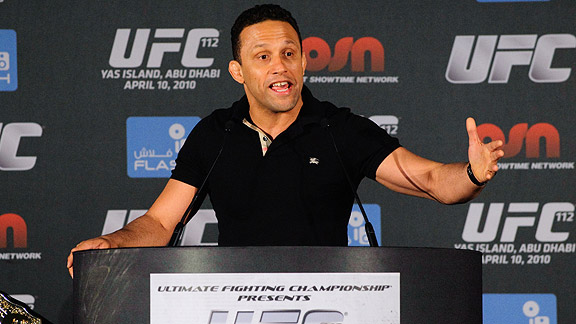 Martin McNeil for ESPN.com
Renzo Gracie has a reputation that precedes him, but are his best days behind him?
Q: Is Gracie ready to turn back the clock?
A: At 43, Gracie is by far the most accomplished of his family in limited-rules fights. In a frame that could accommodate 155 pounds, he beat two former UFC heavyweight titleholders in Oleg Taktarov and Maurice Smith; he choked out former UFC welterweight champion Pat Miletich and decisioned another champion in Carlos Newton; he was on his way to ruining Frank Shamrock's comeback until a knee slammed into the back of his head. He appeared on "60 Minutes" in 2007 and forced the octogenarian conducting the interview to crack a smile. If Renzo inspires reverence in his students, it's easy to see why: There's not much he can't do.
The problem is that Gracie will be taking on his style's worst possible adversary in Matt Hughes, an MMA-adapted wrestler who has far more knowledge of jiu-jitsu than any Iowan has a right to have -- and he'll be doing it at an age when your body has long since stopped obeying your will. "Better late than never" is a concept Hughes may force him to rethink.
Q: Is Silva looking past Maia?
A: During event week, much of the discussion surrounding Silva wasn't about his strategy for the formidable jiu-jitsu of Maia but his plans afterward. He wants to move up to heavyweight, down to welterweight. Maybe cure something. Rearrange Stonehenge.
There is no sport more hospitable to underdogs than MMA, where one foul move can mean missing chunks of your memory or elbow cartilage. Silva's ambitions are exciting to think about, but it's conversation best reserved for the postfight media table.
Q: Can Edgar take down Penn?
A: There is incredible substance to Penn's complete MMA game, but that doesn't mean you can't simplify his weakness: if you can hold him down, you have an excellent chance of success.
Both Hughes and St. Pierre set the template, but they had the advantage of being significantly bigger. No one at 155 pounds has figured out how to get Penn off his feet. Edgar comes in at a disadvantage: he could probably make 145 pounds if he skipped a meal or two. But in his corner is scrappy stand-up game that could be used to wear Penn down and get those arms and legs a little less resistant to a shot later in the fight.
Q: Is Hughes on cruise control?
A: Hughes, 36, hasn't fought in nearly a year. Without a financial audit, it's difficult to say whether he's no longer in need of money, but a years-long ride as a welterweight champion at the time the UFC began doing serious business has probably created a cushion.
In recent appearances, his appetite hasn't been there -- hasn't looked quite as vicious. And because he had swift success against Royce Gracie, he may feel as though Renzo isn't anyone to get excited about. Maybe, maybe not -- but the last time Hughes ambled into the Octagon with a passive look on his face, Penn was licking his blood.
Q: Is Penn nearly out of challenges?
A: Much of Penn's future after Saturday rides on how badly he mistreats Edgar. If he can stop the 11-1 New Jersey resident for the first time, it's another notch; if Edgar can expose some kind of flaw in Penn's game, there may be audience interest in seeing who can exploit it next. But with Gray Maynard a muted personality and the majority of remaining threats tied with Strikeforce, Penn may invent a UFC first: a champion with literally no one compelling left to fight.
Red Ink: Silva-Maia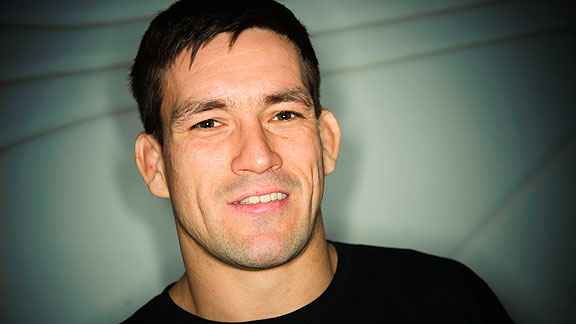 Martin McNeil/ESPN.com
Demian Maia will have his work cut out for him if he's to dethrone Anderson Silva.
Of the three underdogs helping to headline Abu Dhabi's first UFC event on Saturday, Maia is getting the least amount of respect from oddsmakers: while his ground game is effective enough to drown anyone, his stand-up is rudimentary. In the chess game of striking, he's spotting Silva half the board.
That won't matter if Maia can drag Silva down to the ground, but his odds are not as terrific there as you'd think. Jason McDonald survived a ferociously tight triangle attempt by Maia in their first round and a rear-naked choke at the bell. Silva may not be the offensive jiu-jitsu technician Maia is, but as a black belt himself, he should have the aptitude to remain out of danger. And every five minutes, the fight is reset in Silva's favor.
What it means: For Silva, an opportunity to break the all-time consecutive title defense record with six straight; for Maia, the chance to unhinge jaws everywhere by beating a celebrated all-time great.
Wild card: Silva's underrated submission game. He was the first man to tap Dan Henderson at 185 pounds and submitted BJJ black belt Travis Lutter. If Silva can thump Maia's head enough to cause confusion, he could put a huge notch in his belt with a submission win.
Who wins: Silva is far better a grappler than Maia is a striker. Silva by TKO.
Red Ink: Penn-Edgar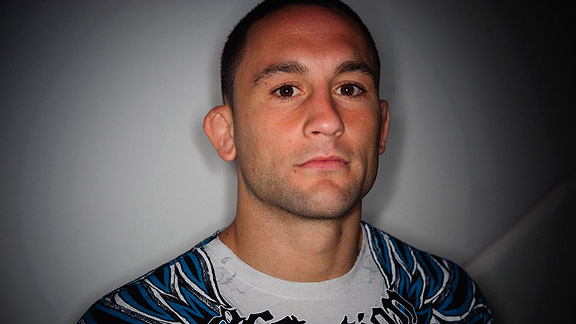 Martin McNeil for ESPN.com
Frankie Edgar hopes to become only the second fighter to defeat B.J. Penn at lightweight.
The best news Frankie Edgar is going to hear all day is that B.J. Penn is not a huge 155-pound fighter. Even in condition, there's still a little softness around the edges. Either man could cut to 145 pounds without the benefit of a wood chipper accident. And Edgar, notoriously small for the division, has succeeded in not being roughed up by anyone but Gray Maynard.
But that's where the positive thinking ends. Edgar's game of slugging it out is something Penn has been doing far longer and better. If he thinks about taking it down, he probably doesn't have the propulsion in his body to make it happen. (Of all people, Randy Couture once commented how difficult Penn was to plant.) The kid has got problems.
Edgar's single oasis in the desert: he can push the pace like no one else. His odds would've been better a few years ago, when Penn's wind was more suspect, but there's always potential to catch a fighter who just can't keep it together for that extra round.
What it means: For Penn, a chance to close the book on the UFC's 155-pound division for all but Maynard; for Edgar, the distinction of being only the second man at that weight to beat Penn.
Wild card: Phil Nurse, Georges St. Pierre's Thai trainer, has picked up Edgar as a student.
Who wins: Edgar is relentless, but Penn has finally married talent with tenacity. Penn by submission.