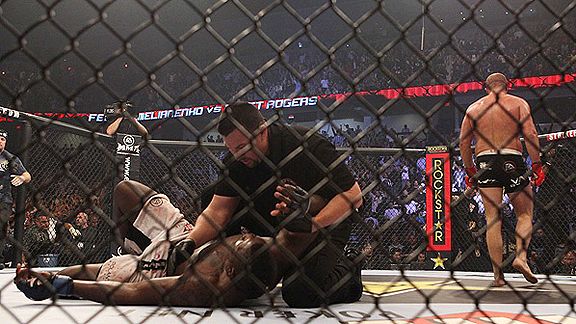 Dave Mandel/Sherdog.com
Brett Rogers earned a May 15 title shot by being pummeled in his last fight.
It's entirely possible Strikeforce's Gilbert Melendez will give Shinya Aoki a shiny new scar or two on April 17, but his promoters in Japan are assuming he'll return with little damage: According to MMAJunkie.com, Aoki could face Tatsuya Kawajiri in a Dream event in July. Despite Aoki's status as Dream's lightweight champion and Kawajiri's stature as a ring veteran, it hasn't happened yet. Kawajiri has fought damn near everyone else, though, including Melendez. It's an incredible lineup for Aoki, which means it probably won't happen. (TKO, act of God. Never fails.)
Thursday, Sherdog's Loretta Hunt reported that Wanderlei Silva will face Yoshihiro Akiyama at UFC 116 on July 3 in Las Vegas. Akiyama, a judoka who gained infamy in Japan for allegations he "greased" against Kazushi Sakuraba in 2006, broke his orbital bone in a win over Alan Belcher at July's UFC 100. Because Silva enjoys punching orbital bones, Akiyama may want to configure his game plan accordingly. (Traditionally, Silva is 3-0 against judo players and roughly 102-0 against Japanese fighters.)
The ugliest news of the week also comes from Hunt, who quotes Strikeforce wrangler Scott Coker as saying that Brett Rogers "qualified" for a heavyweight title shot against Alistair Overeem on May 15. Parity for that is apparently lasting at least a round against Fedor Emelianenko before you start seeing cartoon birds around your head.
It's not the first example of a challenger contending for a major title off a defeat: That honor goes to Ken Shamrock's '02 fight with Tito Ortiz after a loss to Don Frye, but at least Shamrock had the decency to drop the fight in a different promotion.
I get that Strikeforce wants fireworks, but the long-term cost to the integrity of their titles might not balance out. Maybe we're not so far off from television and European titles, Vince McMahon-style.