Some division greats are so dominant that, in order to create excitement, you need to imagine life without them: a little break from the monotony of their title strangle. And if you choose to take B.J. Penn out of the 155-pound equation, you'll probably wind up thinking a lot about Kenny Florian.
An athlete in all the wrong ways -- soccer was his game growing up, which doesn't build all the assault muscles that wrestling can -- Florian has spent five years in perpetual motion and improvement, assembling an 11-3 record that's beyond the abilities of most in the division.
Tweet, tweet

Don't miss a moment of the latest MMA coverage from around the world. Follow us on Twitter and stay informed. Join &#187
On Wednesday, Florian made Takanori Gomi look like a wind-up toy in Gomi's preferred range of standing; like a true mixed martial artist, he used vertical striking to make Gomi more pliable on the mat for a submission finish. It's a cerebral game right up there with Georges St. Pierre and Kazushi Sakuraba.
The problem is that Penn does exist, and there was little in their August 2009 fight that would indicate Florian would have any better a chance in a rematch. But if Penn decides to move up to 170 pounds, there would probably be no reason to imagine him as a titleholder. It'd happen.
Next for Florian: Gray Maynard is the rightful No. 1 contender, but if he doesn't want to wait four-six months for the winner of Penn/Frankie Edgar on April 10, Florian would certainly accommodate him.
Next for Gomi: Cleaning up his windmill striking; taking it to Melvin Guillard in a fight that would be fun while it lasted.
Next for Roy Nelson: Frank Mir.
Awards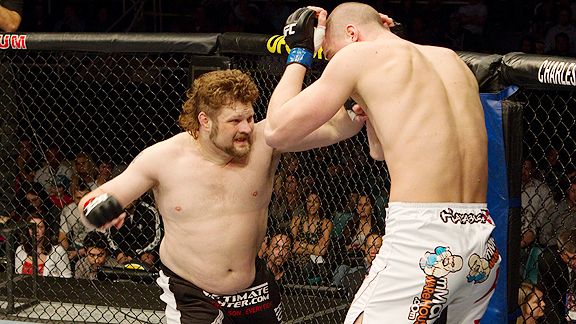 Josh Hedges/Zuffa/UFC
Roy Nelson: Winning fights and not looking so good while doing it.
The Dalton award: Roy Nelson, for being one of the few men in the world able to wear a mullet and go uncontested.
The drill bit award: Mike Goldberg and B.J. Penn, for fulfilling the necessary-but-mundane duties of the big prefight interview. Is "B.J. ready to go?" "Has B.J trained hard?" Take a guess.
The novocaine award: Nate Quarry, for looking like he just had teeth pulled against Jorge Rivera.
The best-case-for-a-WEC-merger award: A 145-sized Caol Uno, so diminutive that it appeared as though Gleison Tibau was picking him up from preschool -- then knocking Uno senseless.
The Jim Lampley award: Mike Goldberg, for his repeated viewings of the Nelson/Stefan Struve knockout. "Watch it, BOOM!" "Watch it one more time, BAM!"
New Questions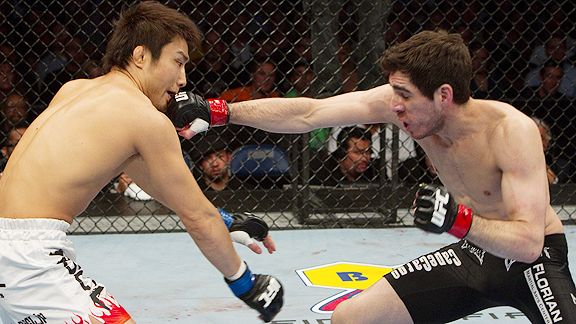 Josh Hedges/Zuffa/UFC
Kenny Florian, right, is the best lightweight not named B.J. Penn.
Q: If Penn stays, is Florian going to need a transfer?
A: Florian is doing a fine job of crushing potential contenders while not presenting as any real threat to Penn a second time around. If Zuffa's WEC brand is here to stay, why not make Florian one of the marquee stars over there? Florian versus Ben Henderson, Donald Cerrone, or any of a half-dozen 155-pound athletes would be worth his effort and the audience's time until Penn gets bored. (And he will.) As it stands, he's treading water.
Q: Can Gomi recover?
A: Gomi has never been a precision striker. He throws his weight behind big, sweeping punches, body shots and backpedaling power (shades of Liddell) that made life difficult for competition overseas. Against Florian, he ate jabs and was panting by Round 2. Like some Japanese athletes, he may not have had a gameplan. Like all athletes, he needs to patch his deficits rather than rely on big swings from home plate; someone with less geometry in their hands than Florian might restore some of his confidence.
Q: How far can Nelson go?
A: Most of the UFC's heavyweight conversation revolves around big wrestlers with comic book-sized hands and big personalities. Nelson is big, but no amount of airbrushing is going to put him in a supplement ad: heavy hands and solid jiu-jitsu could be a nice counter to the NCAA clinics much of the division has been putting on.