Call it sore feelings over New York's blacklisting or just bad timing, but the UFC has never treated the tri-state area with much affection.
The sport is technically prohibited in Connecticut, with existing laws making Indian reservations the only hospitable areas; their last event in New Jersey was topped by Rashad Evans fighting Michael Bisping. And with due respect to both those athletes, that is not a headliner that would require anyone ringside to be treated for heart arrhythmia.
Tweet, tweet

Don't miss a moment of the latest MMA coverage from around the world. Follow us on Twitter and stay informed. Join &#187
Saturday's event should make up for the regionally lopsided bookings. Georges St. Pierre will defend his welterweight title for the first time in over eight months against a motor-mouthed Dan Hardy; Frank Mir will contest for an interim title against Shane Carwin. (Yes, interim: Champion Brock Lesnar is healthy, and this fight seems unlikely to make it past even one round, let alone five, but there you go.)
For St. Pierre, it will be an opportunity to score a fourth consecutive title defense. For Hardy, it could mean making a lot of underdog gamblers very wealthy. For fans on the East Coast, it could mean finally getting their money's worth.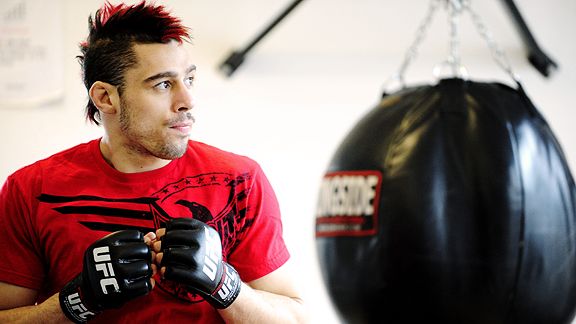 Martin McNeil for ESPN.com
Thinking big: Dan Hardy hasn't lacked confidence ahead of Saturday.
What: UFC 111: St. Pierre versus Hardy, a 10-bout card from the Prudential Center in Newark
When: Saturday, March 27 at 10 p.m. ET on pay-per-view, with a live preliminary special on Spike at 9 p.m. ET
Why you should care: Because Mir has a serious deficit when it comes to defending himself with his back on the mat, and Carwin will be delighted to see if he's made improvements; because 6-1 underdog Hardy might be the biggest statistical anomaly in recent UFC headliner history since Matt Serra, and we know what happened there; because Ben Saunders has to be respected for his rabid petitioning to face Jon Fitch at the last minute; and because Renzo Gracie product Ricardo Almeida might find renewed life at 170 pounds -- so long as he doesn't look like James Irvin.
Fight of the night: St. Pierre-Hardy has the benefit of hours of hype, but Nate Diaz-Rory Markham might wind up with more action per minute.
Hype quote of the show: "I want to come through victoriously, in a very vicious way." -- Mir, just one or two "impregnable" mentions away from mastering the Dao of Tyson, to gathered media on Wednesday.
Five Questions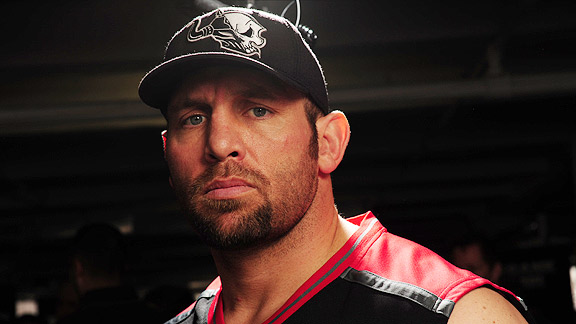 Martin McNeil for ESPN.com
Shane Carwin can punch with the best of 'em, but can he take a punch?
Q: Does Carwin have a chin?
A: While you don't necessarily need a chin when you hit everyone else first, Carwin has probably acknowledged that he won't have a spotless damage record in his MMA career. Gabriel Gonzaga buckled him in his last outing: while Carwin recovered admirably, it was still an indication that his bully method of striking leaves him open for retaliation. He has also never fought anyone who can craft a combination with the power and big-man agility of a Frank Mir. Fast fights are terrific, but Plan B usually involves being able to weather a storm.
Q: Is Hardy better than we think?
A: If Hardy manages to conquer St. Pierre on Saturday, his supporters probably won't be able to use any existing footage for their told-ya-sos. We haven't seen him against a world-class wrestler or jiu-jitsu artist; Marcus Davis and Mike Swick, while dangerous standing, are not strikers on the level of a Paul Daley.
What we do know: he can hit, hard, and with accuracy. He can go three solid rounds. He can survive dust-ups in the clinch. And he doesn't lack for any confidence. That hasn't been enough against St. Pierre in the past, but perhaps Hardy can find a new way to arrange it.
Q: Has Mir corrected his deficits?
A: For a guy so steeped in jiu-jitsu and its philosophy of self-defense above all, Mir is surprisingly and perpetually fazed from off his back. Lesnar pounded his face in record time for swelling; Brandon Vera did damage from on top.
Carwin may not be Lesnar from the top. He may be worse. If Mir recognizes this and can display a new aptitude for defense from the canvas, he'd be sewing up the last remaining breach in his game.
Q: Should Saunders jump to the front of the line?
A: Saunders took Fitch on only two days' notice after Fitch's original opponent, Thiago Alves, dropped out over MRI concerns. If he can beat Fitch, the UFC could mark him a No. 1 contender for the winner of Georges St. Pierre/Dan Hardy. Is that fair? Not necessarily. If Fitch loses, he'll probably argue he was preparing for the compact offense of Alves, not the rangy spider-limbs of Saunders. Better would be the UFC guaranteeing that same opportunity to Fitch if he wins.
Q: Is Diaz fit for 170?
A: Diaz met the definition of mixed success after an "Ultimate Fighter 5" win: he went 4-0, then 1-3, with a January loss to Gray Maynard providing the fuel to make a move from 155 to 170 pounds. Considering that lighter wrestlers could handle him, he probably won't fare much better against heavier, stronger opponents. Rory Markham will help determine how he handles pressure while standing.
Red Ink: St. Pierre-Hardy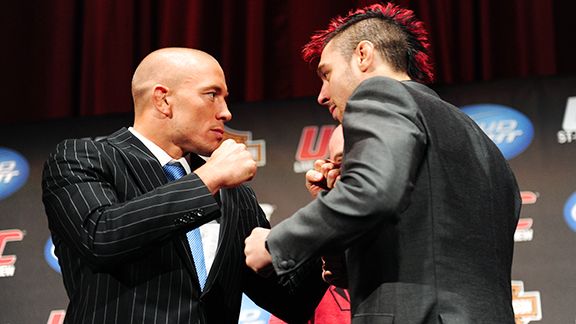 Martin McNeil for ESPN.com
Dan Hardy, right, will have to be on top of his game if he's to upend champion Georges St. Pierre.
Whether you agree with Dana White's assertion that he can build the biggest sports league in the world, one thing is fact: It's rare to see a major U.S. sporting event headlined by two foreign adversaries.
St. Pierre is from Canada, Hardy is from Britain, and fans don't seem to care one bit.
How the crowd responds once both are in the cage is another matter. St. Pierre has American fans who have adopted him; Hardy has never once fought in the States. That fact is just one among Hardy's long list of nevers. He's never fought an exceptional wrestler. He's never been in a 25-minute fight. He's never faced anyone with a tool box with as many compartments, ratchets and tricks as St. Pierre's. And no fighter from the UK has ever contended for -- let alone won -- a UFC title. The chip on Hardy's shoulder is load-bearing, and it's easy to see why.
St. Pierre has grappled with virtually every style imaginable. Alves had heavy hands; Matt Hughes and Josh Koscheck had the wrestling; Matt Serra and B.J. Penn had the guard.
If Hardy wants the upset, he needs to find a way to make St. Pierre uncomfortable. Easy to imagine, hard to realize.
Might look like: The Alves fight, with St. Pierre bouncing on his heels early, scoring takedowns, then spending a little more time on the feet once the first-round fire has gone out.
Wild card: Hardy is bigger and stronger than he looks on television, and might be more of a surfboard in the clinch than St. Pierre realizes.
Who wins: Hardy could do it. He could rip into St. Pierre's head with his elbows and get him bleeding, tired and nervous. He could catch him with a cutting hook as St. Pierre comes in. He could buckle St. Pierre's legs early with aggression. But nothing indicates he's a better overall fighter than St. Pierre, and that's a better predictor than a hypothetical. St. Pierre by submission.