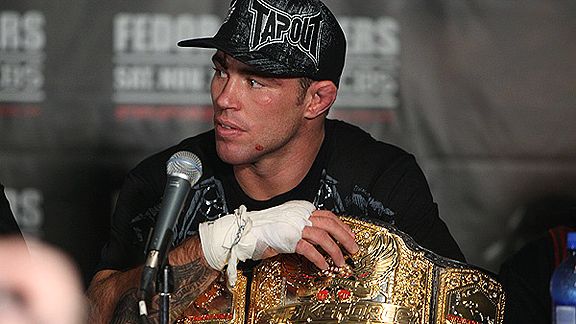 Dave Mandel/Sherdog.com
Wanted: a welterweight champion or another way to get under Strikeforce's skin.
Reasons for the UFC to acquire Jake Shields run off the page. He's one of the few remaining 170-pound athletes Georges St. Pierre has not burned; he is a highly skilled athlete with impeccable credentials; and his absence would be felt -- to some degree -- by Strikeforce, his current employer.
Shields' Strikeforce contract expires with the Dan Henderson fight April 17. (How a company manages to put itself in a position where a fighter could leave as champion is beyond me: The UFC acknowledged and solved this problem years and years ago.) Dana White told the media over the weekend he looks forward to mucking with Strikeforce, driving up Shields' quote and generally playing the situation to his benefit.
The downside for the UFC is that Shields is no Cung Le, Frank Shamrock or Fedor Emelianenko: "Mainstream fans," whatever those are, watched him snore through a five-round decision over Jason Miller in November, which couldn't have done a whole lot for his stock.
If the goal is to create an environment for St. Pierre to become the most dominant welterweight of all time, he's a necessary addition. If the goal is to mess with Strikeforce, his is not a celebrity that's easily missed. It would actually free up Shields' teammate, Nick Diaz, to pursue a title bout at 185 pounds.
The only guaranteed winner is Shields, who may finally see years of effort rewarded with a lucrative contract from one side or the other. This is the ultimate reason for endorsing an open market: seeing guys who risk their necks get paid what they deserve.