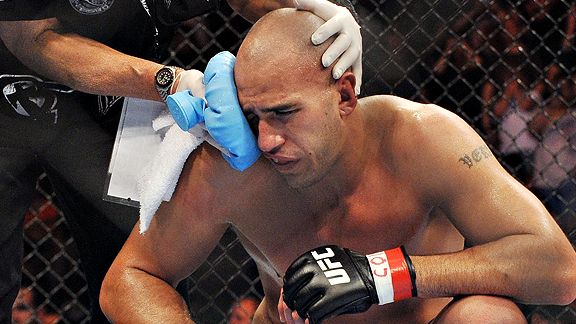 Jon Kopaloff/Getty Images
On ice: Brandon Vera's once-promising career has stalled in recent years.
You can trace mixed martial arts back to Brazil, Japan and Rome, but the modern-day site of this country's first bare-knuckle, anything-goes elimination tournament was Denver in November 1993. The UFC hosting events in that state is the closest they'll ever get to the league playing at home.
UFC on Versus 1, the awkward label for Sunday's first live card outside of Spike, was a lightning-paced assembly that put two contenders on the fast track to title contention.
Jon Jones looked better than any 22-year-old has any right to against Brandon Vera, delivering elbows from the top position that should quickly become a major source of anxiety in the 205 division; Junior dos Santos proved he could handle a brick-necked BJJ player in Gabriel Gonzaga.
Dos Santos and Jones are unusual in that they haven't yet displayed any weaknesses in their games. Fights end when they want them to, and nobody has put them in any real trouble. Invincibility is a myth in MMA, but the fun is in seeing how far certain athletes can stretch the idea.
Next for Jones: No backward steps: perhaps the loser of May's Quinton Jackson-Rashad Evans fight.
Next for dos Santos: A test against one of the division's monster wrestlers: Shane Carwin or Cain Velasquez.
Next for Cheick Kongo: Continued almost-relevance in the division, beating shaky fighters and losing to contenders.
Awards
The missing-the-point award: The UFC, for failing to use their brand identification to play up the WEC on Versus. The promotion got only fleeting mentions during commercial breaks for their April pay-per-view event, a big blank for users of DVR recorders that speed through ads; UFC 111, a show that doesn't need the help, was the beneficiary of several spots. Nonsensical.
The exaggerated hype award: James Irvin, for indicating that his fight with Alessio Sakara was up first because "everyone is looking for this to be a bloodbath." Kids under 12 admitted free!
The inkwell award: Irvin-Sakara, a fight in which both athletes were heavily tattooed, and referee Josh Rosenthal had sleeve work, too.
The toughman award: Paul Buentello, for jamming up his pinky finger and then allowing a doctor to tug it back into place. Buentello would've done just fine in the Civil War.
The "You try it, genius" award: Anyone giving Buentello grief for tapping to elbow strikes to the thigh courtesy of Cheick Kongo after getting worked over for two-plus rounds. Buentello is tougher than most humans: If he says Kongo's strikes to his legs were that bad, you believe it.
The 13th annual Goldberg Award: Mike Goldberg, for declaring Sakara a figure in "pro baxing" and then fooling us into thinking he could go an entire telecast without using the phrase "meteoric rise." (He waited until the closing seconds.)
New questions
Q: Which base is going to give Jones the most trouble?
A: In his career to date, Jones has had answers for everything from quality Thai boxing (Vera) to formidable wrestling (Matt Hamill, Jake O'Brien) to jiu-jitsu (Stephan Bonnar). Putting him in trouble may have to involve a striker that can dig into the mat for power shots (Quinton Jackson) or a wrestler that won't abandon his base for striking.
There is probably going to be interest on the part of promoters and fans to see him against a killer soon. After Vera, it's hard to argue he won't be ready.
Q: Can Vera right the ship?
A: Vera looked good early on, dispatching lumbering heavyweights and backing up ego-talk with substance. Since 2007, he's been wildly inconsistent, toppling mid-tier athletes like Reese Andy while stalling out against Keith Jardine and Randy Couture. (In fairness, the latter was a fight he arguably won.) A sports psychologist might be in order.
Q: Will the UFC's presence on Versus aid the WEC?
A: There were no mentions of the WEC during the UFC's broadcast Sunday, but whether that was a mistake or not depends on why fans run so hot and cold to the lighter-weight promotion. If it's lack of awareness, plugs would help; if it's disinterest, there's not much of a cure. Fighters below 155 pounds often appear to be more well-rounded than their heavier counterparts, which means fewer of them have a distinctive style that can create audience intrigue. Traditionally, combat sports fans have preferred the bigger men causing concussions than the smaller men finessing their way to decisions.
Q: Are referees getting the training they need?
A: While the veteran UFC officials (Herb Dean, Josh Rosenthal) performed to expectations Sunday, newer faces local to Colorado proved disappointing. An official overseeing the Daniel Roberts-John Howard bout allowed Howard to land multiple blows after Roberts had clearly suffered a power outage already. While it's not likely those kind of unnecessary blows could wind up being lethal, they could potentially result in more severe concussion in athletes. The official's mistake was being several feet away from the action instead of right on top of it. If that's an indication Colorado needs to better inform its employees, they'd better make arrangements.