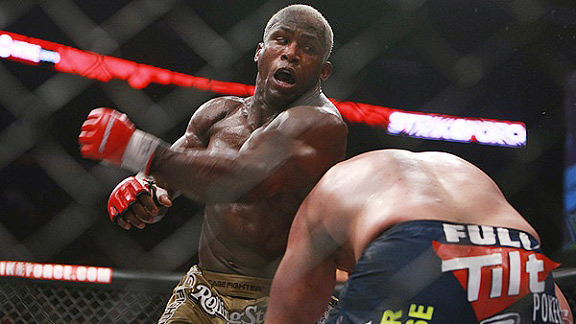 Dave Mandel/Sherdog.com
Kevin Randleman should be a proper litmus test for Roger Gracie's heavyweight career.
For all the armchair promoting directed at Strikeforce, it's getting harder to find fault with some of the cards it's assembling. (Get past Herschel Walker if you must, but January's Nick Diaz-Marius Zaromskis fight was worth whatever Showtime charged you.)
With Roger Gracie telling GracieMag.com -- noticed by USAToday.com -- that he is scheduled to fight Kevin Randleman on May 15, it appears that Strikeforce's heavyweight lineup is getting generous. Alistair Overeem is slated to fight Brett Rogers; Andrei Arlovski and Antonio Silva will appear on the undercard. Fedor Emelianenko's fall/winter 2011 opponent is more than likely somewhere on that list.
At 2-0, Gracie is nowhere near that scene, but he displayed what he could do against a monolith wrestler in Ron Waterman back in 2006. Randleman, dangerous when he chooses to be, may help indicate how Gracie reacts to real violence in the ring. And after the disappointment of Rolles Gracie in the UFC and the disappearance of Daniel Gracie from competition, how far a heavyweight from that family can go is still an open discussion.