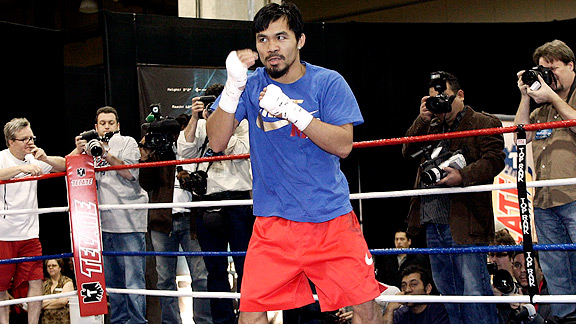 Chris Farina/Top Rank
The best boxer in the ring, Manny Pacquiao, is no fan of fighting in the cage.
Manny Pacquiao fights Joshua Clottey on Saturday, and although I'd like to endorse it as a fight with potential, I have never been able to make sense of boxing's toothpick structure.
Barring injury, we know that the UFC's Frank Mir and Shane Carwin are fighting for a shot at Brock Lesnar in the summer.
What is Pacquiao fighting for? Another round in a conference room with Floyd Mayweather Jr.?
So long as boxing continues to worry about itself only one night at a time, it will continue to wheeze through a respirator. Whether Pacquiao would acknowledge that or not is open to speculation, but at least we know he doesn't have much of an issue with MMA as a whole.
"It's too violent for me, but it's a sport that should be recognized," Pacquiao said during an ESPN.com chat to promote the bout. "It's a great sport, but not the sport for me."
I dwell on comments like this because I can't navigate the irony from a man who has been punched in the head hundreds of times in his career finding the superficial bleeds and bruises of MMA to be "too violent." Boxing and football have hypnotized spectators and participants into believing that a sterile environment without much tissue trauma somehow sanctions the congealed oatmeal their brains often get whisked into. If boxing's exterior injuries were somehow proportionate to what happens inside the skull, Cowboys Stadium would need barf bags.
This isn't intended to grant a free pass to MMA, which treats heads like piñatas with regularity. We haven't yet met the mixed martial artist at 60 or 70, or witnessed the orthopedic and neurological issues the sport may present. But we can compare a fighter's decline to that of the aging boxer, a downward spiral that frequently begins while he's still too stubborn to quit while he's behind. Randy Couture, Dan Henderson and a dozen or two others have logged 12 years or more in cages, somehow avoiding the missing-tongue symptoms of a Riddick Bowe or an Evander Holyfield. MMA fighters are almost uniformly coherent, though Tito Ortiz, as always, will remain exempt from this discussion.