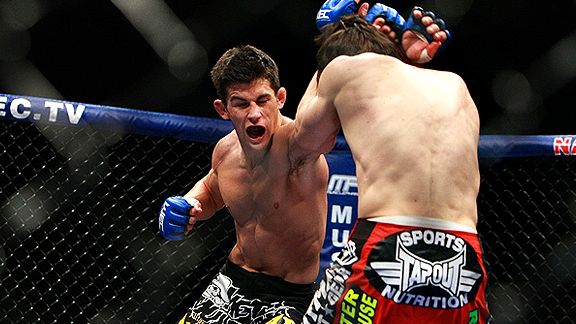 Dave Mandel/Sherdog.com
Eyes wide shut: Dominick Cruz proved his worth at bantamweight by shocking Brian Bowles.
Great fights tell stories and great fight cards are able to tell multiple stories at a time. Saturday's WEC event in Columbus, Ohio, presented three, each one working a dramatically different stage of the structure.
Dominick Cruz is clearly in the first act of his career. Three solid wins in 2009 earned him a title shot against Brian Bowles, which he turned into a bantamweight championship win after Bowles -- dominated for two rounds -- was unable to answer the bell for Round 3. Cruz is lanky and never stands idle: His style of peppering punches and cutting sharp angles is a pleasure to watch, but it's a game only the very young (Cruz is 24) and agile can play. What will determine Cruz's longevity is if he can anticipate the need to add other dimensions to his game before his footwork slows down.
The man Bowles beat to briefly hold the title was Miguel Torres, and his second act might be rapidly approaching what students of storytelling refer to as the ordeal -- the moment when all seems lost, and the protagonist is at his lowest point. Torres needed a convincing win over Joe Benavidez to propel himself right back into contention; instead, he was taken down, split open and choked out. There's no ambiguity here. Torres, once the division's biggest star, is 0-2 in recent outings, both convincing stoppages. Competing at 135 pounds does not give him much opportunity for reinvention. He's not about to drop to 125 and 145 presents even bigger dangers for him. Any corrections need to be made without the gimmicks.
It's obvious that the star of his last act is Jens Pulver, who now has seven losses in his past eight fights. The 35-year-old was the UFC's first lightweight champion and remains the only man to defeat B.J. Penn at 155 pounds. But potent hands are not enough when athletes are faster and fresher, and so Pulver has been forced to make a series of tearful speeches. After being submitted by Javier Vazquez, he may have finally and inevitably dried up.
One road might lead him to a livable wage as a commentator; another might see him taking headline fights in Midwest states against jokers in gloves. The fighter is wired to take the latter; here's hoping Pulver has the sense to choose the former.
Next for Cruz: He and Benavidez both want a rematch of their WEC 42 fight, which Cruz won via decision. Why not?
Next for Torres: A rematch with Bowles to determine who rematches the winner of the rematch between Cruz and Benavidez. Perhaps 135 isn't as deep as previously believed.
Next for Pulver: Commentating. He's good at it. Most fighters aren't.
Awards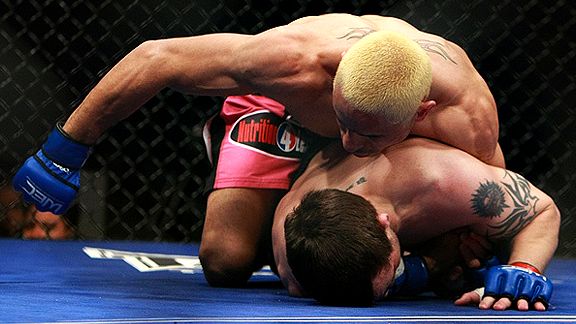 Dave Mandel/Sherdog.com
Down, not out: Jens Pulver, bottom, refused to call it a career after losing to Javier Vazquez.
The 1,000-yard stare award: Fill-in commentator Stephan Bonnar, who stared into the camera like he was under hypnotic suggestion.
The bring-in-the-troops award: Zuffa, for plunking in familiar talking heads Dana White and Joe Rogan to hype up the WEC's pay-per-view debut on April 24.
Comeback kid award: Bart Palaszewski, for getting roughed up against Karen Darabedyan in the first round and then pulling out a slick armbar submission in the second -- like the Hail Mary punch in boxing, only without the scrambled brains.
Reality in combat award: Pulver, for knowing he's probably done in the sport but not explicitly promising to step down: Pulver had the awareness to realize the moments immediately after a fight are a poor time to plan for the future.
The oxymoron award: "Classy MMA crowd" is not a phrase you'll find me using often, but the Ohio chant for Pulver following his loss was spectator sportsmanship at its best. Arenas are quick to harass athletes and slow to show affection. It was nice to see them put Pulver on their shoulders, if only figuratively.
This and that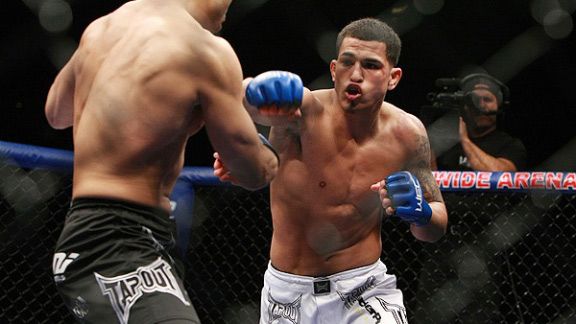 Sherdog.com
Killer instinct: Anthony Pettis showed no mercy to Danny Castillo.
…Still think the UFC brand isn't the most dominant in combat sports? According to MMAJunkie.com, 8,345 was the total attendance figure for the WEC event at Nationwide Arena in Columbus on Saturday, a significant dip from the 17,000 that attended UFC 96 in the same venue this time last year …
…Anthony Pettis earned a $10,000 mercenary's bonus for his impressive knockout of Danny Castillo on the undercard. Referee Jerry Poe was slow to respond to Castillo being toppled, which meant he sustained a few surplus punches without cause. You can't blame Poe, who intervened as quickly as he could, but you might make the case that Pettis needed to display a little restraint. Dan Henderson's icing after knocking Michael Bisping cold last summer was an equally ugly sight; athletes and officials should acknowledge that blows after an athlete has already been knocked cold play with fire …
…Benavidez pocketed $10,000 for submitting Torres, well-deserved in light of the fact it was the first time Torres has been forced to tap in his career …
…Bowles, who lost to Cruz after refusing to answer the bell for Round 3, circulated pictures of an obviously afflicted right hand on Sunday. Some fighters have fought through fractures, leading some to comment that Bowles was looking for an out or lacks the ability to stand attrition. But fighters fight for a prize: Was Bowles getting paid enough to risk long-term problems?