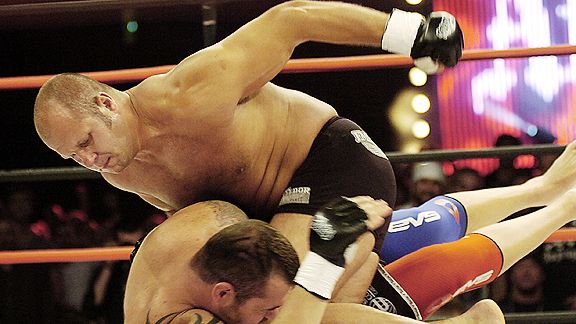 Darryl Dennis/Icon SMI
Fall from grace: It has been a while since Tim Sylvia, bottom, has been on top of his game.
The Massachusetts Athletic Commission will get its first stern test of competency in the spring when promoters attempt to bring a fight card to Boston headlined by Tim Sylvia and Mariusz Pudzianowski.
You might know Pudzianowski as the five-time World's Strongest Man champion, a 280-something-pound side of flank who looks like he could crush a beer keg with his bare hands (and probably has, as part of his regular competition). Sylvia is far less impressive physically, but he can cop to 30 more MMA fights than Pudzianowski, who has one.
If that sounds like pure circus tripe that may not even make sense on a financial level, that's because it is: Pudzianowski is an attraction in his native Poland, and can probably pick up a bigger check for less risk there.
The story is more indicative of the career decline of Sylvia, who has somehow failed to gather his senses following a June loss to elderly pro boxer Ray Mercer. Prior to that embarrassment, Sylvia dropped two big fights to two big names in Antonio Rodrigo Nogueira and Fedor Emelianenko -- nothing to be ashamed of.
So how is it that Sylvia has been unable to recover? The pointlessness of a Pudzianowski bout or a rematch against Wes Sims indicates a decaying motivation to fight. And while that's not something the commission can audit, it might arguably be more dangerous than a mismatch.