James Toney is in trouble Saturday. Trouble of both an orthopedic and ego-denting nature, but you knew that.
If Toney agrees, he's doing a terrific job of hiding it.
There is probably lots of reinforcement at his camp about how he can work over Randy Couture in the stand-up, and since that's where the fight begins, he's got it made. Or that Couture, six years older and bound to get old sometime, might be too slow to react to a timed bomb. Maybe his training day consists of an hour of meditative self-delusion. Most likely, he's willing to do what he has to do in order to pick up a six-figure check that's getting harder to come by in his own sport.
It's this awful, fantastic spectacle that's the real headliner of Boston's first UFC card, even though B.J. Penn's rematch with Frank Edgar (rightfully) occupies the top of the lineup. Owing either to their low-gear lightweight title match in April or the sheer insanity of a name boxer walking into a cage, Toney-Couture is getting the majority of the attention.
And why not? We've seen Penn and Edgar fight -- and it was not pretty. But we've never been exposed to the clash of boxing and wrestling personalities at this level. Toney, when he can be understood, is a human hype train, and the belligerence leading into this fight has people who give him no chance still anxious to see him crumble. He also happens to be the most accomplished boxer to ever subject himself to the threat of Muay Thai and Greco-Roman wrestling. It's like throwing a chicken into a pen with a lion. Knowing the result doesn't mean you can turn away.
Toney will lose because the same threats he has to endure are not the same threats he can impose: it's a gift for Couture to enter a cage and have to worry about only two weapons instead of a dozen. Anyone can land a Hail Mary punch, and if it happens to be Toney, so be it. But whatever happens between two well-aged prizefighters has little relevance to their respective sports. Both have a lot more to offer than just Couture and Toney.
What: UFC 118, a 10-bout card from the TD Garden in Boston
When: Saturday, Aug. 28, at 10 p.m. ET on pay-per-view, with a preliminary special at 9 p.m. ET on Spike
Why you should care: Because Toney will be one of only a very few boxers with the guts -- or empty wallet -- to try punching someone while he's being tackled; because Penn-Edgar II will determine whether Penn has finally found his true test at 155 pounds, a Buzzy the Hummingbird nuisance who can run circles around him; and because Kenny Florian and Gray Maynard will result in a clean No. 1 contender for the winner.
Fight of the night: Marcus Davis and Nate Diaz, undercard filler that could be plenty violent.
Hype quotes of the show: "Is that what it is? [MMA vs. boxing?] I thought it was Randy Couture versus James Toney. It's not boxing anymore because James is in MMA. He's fighting MMA style, not boxing." -- A surprisingly rational Dan Goossen, Toney's manager, to Fanhouse
"This is my time to do my business and let everybody know what boxers can do, because this is boxing versus MMA. And I am going to knock him out." -- Toney, who apparently didn't get Goossen's memo, to ESPN.com
Questions: UFC 118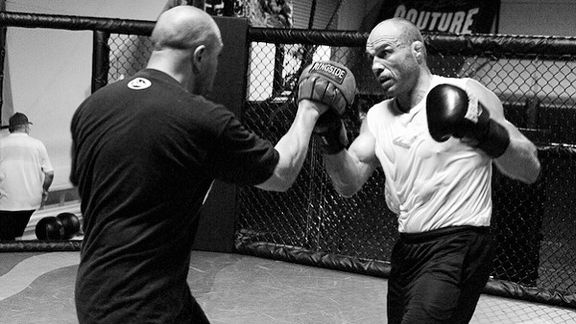 Terry Goodlad /Sherdog.com
Randy Couture, above, doesn't have a whole lot to gain from fighting James Toney.
Q: Is Toney a future member of the Quick Tap Club?
A: There are fighters who do not quit, even under circumstances that would make many grown men sob. Hands and limbs can get broken and no one blinks: thanks to muscle memory; some fighters even continue fighting while technically unconscious.
That's one extreme. The other is fighters who look for the first avenue out as soon as things aren't going their way. We've seen taps as soon as someone gets mounted. Some have quit simply because they were tired, with their opponent standing several feet away.
If Toney seems lackadaisical about the potential for injury on Saturday, that may be because MMA is generous to the courage-deficient. You can quit any time and for any reason, though the majority wait until soft tissue damage has occurred. If Couture begins pounding on Toney from up top, he may not stick around for the entire set. And if he's submitted, there's probably a speech in store about Couture not being man enough to stand with him. How serious Toney is as an MMA athlete will not be determined by how hard he attacks, but by how stubborn he is when he can't.
Q: Is Couture in a lose/lose situation?
A: If anyone in MMA deserves to be the recipient of a handicap match, it's Couture, who -- aside from a brief contract scuffle several years ago -- has been an anyone/anytime kind of fighter and provided the UFC with an engaging and respectful personality to balance out the frothing stereotypes.
The problem with facing someone with such a clear disadvantage is that no one will celebrate a victory: if Couture wins, it's because Toney was too fat and one-dimensional. If Toney happens to win, it'll be a black eye for the UFC. The only way Couture could be impressive in victory would be to out-strike Toney. And that's probably not on the table.
Q: Is Edgar the least-celebrated champion in the UFC?
A: Edgar, 2-times, had the biggest win of his career against Penn in an April Abu Dhabi bout, handing Penn his second-ever loss in the lightweight class and claiming the UFC title. Because of the method -- somewhat boring -- and the idea that Penn simply had an offnight, it hasn't felt like anything's changed: Oddsmakers have Edgar as the sizable underdog.
Is he? Edgar certainly hasn't gotten any slower in the proceeding six months, while Penn isn't going to add much to his arsenal we haven't already seen. Edgar is tough to tackle and keeps busy enough standing to impress judges. If he can beat Penn again, observers might finally feel comfortable thinking of him as a champion.
Red Ink: Couture versus Toney
There's a reason many of the images depicting Toney on the UFC's website appear only from the waist up: Toney is not a physical specimen and not in any kind of shape other than round. If his gut is evidence of the seriousness with which he approaches his new career, we're looking at a very jovial man.
Maybe Toney believes dedication is a pointless emotion -- he has so many things going against him that it seems impossible he can circumvent all of them. In addition to inexperience, single-dimensional skills and a body hardly attuned to MMA, it will also be his first competition in a cage.
Couture, on the other hand, will make his 29th appearance and can easily take the fight right out of Toney's element and into his. The fight is so academic that it feels like we might be missing something, especially considering how loud Toney has declared his chances. We're not.
What it means: For Couture, it's about money that comes as easy as if it fell from the sky. For Toney, it's a chance -- win or lose -- to restore some of his brand in boxing.
Might look like: An instructional DVD on Greco-Roman wrestling.
Wild card: Couture has been clipped while rushing in before, most notably against Vitor Belfort -- who sliced his eye open -- and Chuck Liddell. Toney is unquestionably better at finding chins than either of them.
Who wins: While the prospect of Toney KOing a slow-footed Couture is not completely out of the question, it's 10 times more likely that Couture will put him down and find an appendage to bend. Bettors beware: this is a fight most welterweights could win. Couture by submission.