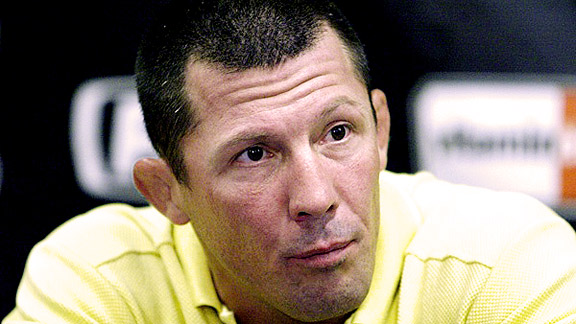 Jeff Sherwood/Sherdog.com
It isn't what it might have been, but Pat Miletich knows the value of a Frank Shamrock fight.
Combat sports always have had the sadistic business sense to feed graying talent to younger, faster, better stars -- a torch-passing at which the losing party gets third-degree burns in the process. It's cruel, it's ugly and it never makes anyone feel too good.
Tweet, tweet
Don't miss a moment of the latest MMA coverage from around the world. Follow us on Twitter and stay informed. Join »
It's therefore encouraging to hear that Strikeforce wants to slot Pat Miletich against a slightly gimpy Frank Shamrock. (This opposed to either guy facing a 20-year-old who craps concrete.) Miletich told FiveOuncesofPain.com that he has agreed to the fight, proposed to take place before the summer, but Shamrock is sitting on his hands.
"Frank Shamrock and I have verbally agreed to fight each other, but from what I understand he's being difficult in the negotiations," Miletich said.
Like Saturday's Mark Coleman-Randy Couture headliner, which has roots in the late 1990s, Shamrock-Miletich was flirted with before Shamrock took to cleaning up dog deposits with Semaphore Entertainment Group's lowball offers. It's a few years too late, as most of the good fights usually are, but so what? There are at least a dozen fights in this genre to be made that feature charismatic athletes who can talk enough game to interest people despite the matches' title irrelevance, with Don Frye-Ken Shamrock from 2002 being the model example. Shamrock is 37, Miletich is 41, and plenty of fans are old enough to care.