Nick Diaz is not a knockout artist in any traditional sense: You don't need to fear a lunch box of a hand crashing into your temple. What Diaz does instead is arguably more impressive: Instead of connecting once, he transmits force over and over and over again -- 95 times in the first round alone against Marius Zaromskis on Saturday. If the first 10 don't wear on you, the next 85 will.
Tweet, tweet
Don't miss a moment of the latest MMA coverage from around the world. Follow us on Twitter and stay informed. Join »
Diaz's evolution from a pestering striker with a black belt reserve to a genuinely threatening combination artist has been fascinating to watch. Western boxing has had a tradition of being the most criminally under-represented element in MMA. Part of the blame lies in the ineffectual nature of a boxing stance -- feet planted -- which will get you kicked or swept into a coffin; part of it is just the handyman nature of the sport and the limited time afforded to any one element.
Diaz is by no means a striker who can step into a boxing ring, a suggestion made -- hopefully in jest -- by commentator Mauro Ranallo on Saturday night. By boxing's standards, he is eccentric at best. But in a sport in which bad boxing is the only kind being practiced, eccentric is enough.
Next for Diaz: Likely a long-overdue bout with Jay Hieron, but there's more suspense in a rematch with pro boxer K.J. Noons, who busted Diaz badly in a 2007 bout. Is Noons willing to go to 170 to try it again?
Next for Herschel Walker: Eating up the incoming praise for being a 47-year-old who just went three rounds in his MMA debut without dropping dead from exhaustion. (That's a feat more accomplished heavyweights can't manage.) Opponent Greg Nagy looked to have been enlisted from the morgue, but Walker showed poise and athletic ability that makes him one of MMA's better curiosities. His is the kind of fame that could make David "Tank" Abbott or Ken Shamrock employable again.
Next for Cristiane "Cyborg" Santos: Waiting for Strikeforce to develop Erin Toughill as a worthy contender; prank-calling Laila Ali.
Next for Bobby Lashley: Strikeforce is running out of gift-wrap and giving him someone to measure his skills against. Even Mike Kyle would be welcome at this point, but Brett Rogers in an eliminator for Fedor Emelianenko is a sound plan in the absence of Alistair Overeem.
Next for Robbie Lawler: Cung Le if Le is up for it; Frank Shamrock if not.
Awards
The Gloria Steinem award: Mauro Ranallo, for suggesting that Marloes Coenen's foot stomps on Santos were attributable to a dislike "of her nail polish."
The Blair Witch award: Strikeforce, for either losing or simply not soliciting footage of Dream athletes Marius Zaromskis and Melvin Manhoef -- footage that would have gone a long way in promoting the athletic muscle spasms of these two for clueless Western audiences.
The Hulkamania award: Wes Sims, for trying to bait Lashley with a "test of strength" in the opening moments of their bout. Attempts to execute a Boston Crab were less successful.
The casual-fan-thinks-Mac-Danzig-lost-weight award: Zaromskis.
The HolyGodCanYouBelieveThat award: Manhoef, for smacking Lawler with such ferocious power in his low kicks that Lawler's leg would pivot up like a ballerina's.
New questions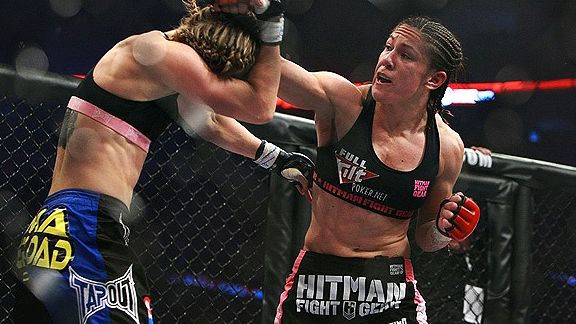 Sherdog.com
Cristiane Santos' striking game works well against fellow strikers, but how would it hold up against a wrestler?
Q: Do promotional exchanges work?
A: In their starry-eyed optimism, Dream officials may have believed they were sending Zaromskis and Manhoef on bombing missions to the States. Instead, both men were wrecked by fighters belonging to Strikeforce. And if Zaromskis had happened to win the welterweight title, it could've been several months before he came back around to defend it.
Co-promotion is a noble idea, but what's good for fans isn't necessarily good for business. And if it's not good for business, that business might not last. If Strikeforce insists on these matches, the introduction of a separate world title might be in order.
Q: What will it take to beat Santos?
A: At this point, an athlete loading her gloves with birdshot would still only be a 50/50 proposition against Santos, a woman who can take a punch to deliver three of her own. Controlling her in the clinch or on the ground seems impossible. What's the solution?
In looking at the beginning of the end for Wanderlei Silva, another Chute Boxe savage, Ricardo Arona had to stifle his violence by pinning Silva's back to the ground. No one in Strikeforce's current 145-pound division seems capable of doing that to Santos. Instead, it might be worthwhile to gauge the interest of female Olympic wrestlers: Irina Merleni won the first women's gold medal at the 2004 Games.
Men's MMA changed dramatically with the introduction of amateur grapplers. It might be time for the female division to experience the same evolution.
Q: What do you do with Walker?
A: Signing an ex-football player flirting with 50 to a fight contract is stunt casting at its worst. But someone forgot to tell Walker he was supposed to be a punch line: The former NFL standout displayed poise and athleticism lost on some lumbering heavyweights half his age. And he pulled off the neat hat trick of being gracious and ingratiating during promotion while looking like someone shot his dog once he got in the cage.
Walker is a fun distraction from the main business of title contention. So long as he's treated as such, his participation is welcome.
This and that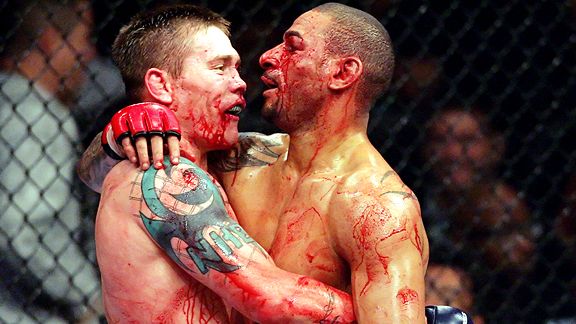 Cliff Welch/Icon SMI
Strikeforce fans hoping to catch a bloody good bout between Joe Riggs and Jay Hieron were left in the dark.
• Talking to Fanhouse, Strikeforce president Scott Coker floated Hayato Sakurai as a possible contender for Diaz's 170-pound welterweight title. Sakurai is good, but his best years are in the rearview. Coker also mentioned Shinya Aoki's looming shot against Gilbert Melendez, which would steal any show it's held on. …
• MMAJunkie.com learned that Walker was paid "six figures" for the Greg Nagy demolition, which Walker intends to donate to charity. …
• Lashley, apparently investing in a heel gimmick, is making noise about wanting a title shot next. The road from Wes Sims to Fedor Emelianenko is unpaved, Bobby. …
• EA Sports drew heat for an inability to successfully stream the Jay Hieron/Joe Riggs undercard bout at EASports.com prior to the start of the live telecast. As promising as Internet-on-Demand video seems, it's still at the whim of broadband capacity and glitch-infested PC headaches. …
• Lawler christened Manhoef "so frickin' powerful" in his postfight interview and admitted to being "sore" following a barrage of lower leg kicks. He also plugged his new sponsor.