In arranging 20 cards (or more) per year, the UFC has adopted a schedule that doesn't make many allowances for "event" programming: it has become a sports league with no offseason. To satisfy that glut of airtime, more than a few events wind up having only one or two fights that really adrenalize audiences.
Strikeforce is a company without the roster depth to manage that kind of volume, and there are times when fans may feel better off for it. Saturday's Showtime broadcast from Miami features four genuinely compelling fights squeezed together, one after the other, and a solid argument that any one of them could be worth the entire ticket price. It creates a sense of elevation that has been largely absent in MMA over the past several months. A good fight show should mimic the anticipatory pleasure of a good movie or book.
Tweet, tweet
Don't miss a moment of the latest MMA coverage from around the world. Follow us on Twitter and stay informed. Join »
That kind of substance is dying out, unfortunately. Strikeforce has made noise about wanting to run a schedule similar to the UFC's, and cards like this one can't possibly survive in that environment.
I think that might be pre-emptive nostalgia, which makes no sense. Then again, neither does Mauro Ranallo.
What: "Strikeforce: Miami," a 12-bout card from the BankAtlantic Center in Sunrise, Fla.
When: Saturday, 10 p.m. ET on Showtime
Why you should care: Because North American newcomer Marius Zaromskis fights like someone is controlling him with a video game pad; because opponent Nick Diaz probably won't be too impressed with that; because women's 145-pound champion Cristiane "Cyborg" Santos makes her first title defense since sending Gina Carano packing to Hollywood in August; because Melvin Manhoef and Robbie Lawler have strategies that only extend as far as getting to the arena; and because Herschel Walker seems like too nice a guy to root against.
Fight of the night: Manhoef/Lawler, unless Robbie has been drilling double-legs. (And he should be.)
Hype quote of the show: "My stand-up is OK, my wrestling is OK and my ground game is OK." -- Marloes Coenen, clearly underestimating the need to be just more than "OK" against Santos, who may soon begin sprouting horns from her forehead.
Five questions: "Strikeforce: Miami" edition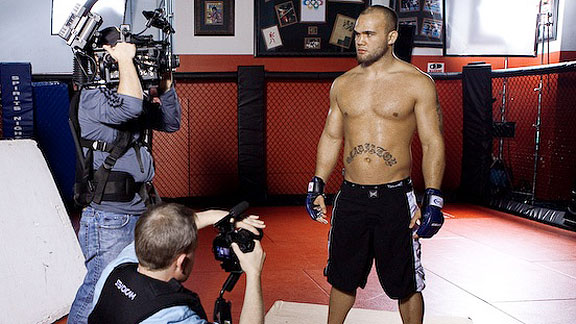 Esther Lin/Strikeforce
Picture this: Robbie Lawler, above, is convinced he'll outstrike K-1 star Melvin Manhoef.
Q: Is Zaromskis ready?
A: Sixteen fights and five years into a steady career, Zaromskis has made it very easy for amateur filmmakers to create highlight reels. But of all that ridiculous footage, only Hayato Sakurai presented a serious and accomplished problem. Against Diaz, Zaromskis will be dealing with a new level of ability and someone far less likely to succumb to a reverse-somersault guard pass. This fight decides whether the stunt man is a novelty or something better.
Q: Is the women's division a two-trick premise?
A: Quickly: Name the rightful No. 1 contender to the Strikeforce 145-pound female title after Saturday's Santos/Coenen bout. Give up? It's a silhouette with a question mark. Despite adding to the women's industry with a pending 135-pound weight class, there's a serious deficit of talent at the upper levels to keep Santos -- or anyone -- busy at the top.
The UFC once dismissed any thoughts of a female influx for that exact reason. No one is doing anything to prove them wrong.
Q: Is Lawler a mixed martial artist or a 4-ounce boxer?
A: It could be misdirection, but Lawler is adamant that he plans to stand and trade with K-1 star Manhoef for Manhoef's US debut Saturday. On the scale of bad ideas, this one might edge out licking an outlet. Manhoef is essentially Lawler with a quicker trigger finger; when he initiates a brawl, most opponents do not like the exchange rate. Lawler's best chance is on the ground. Whether he goes there while still conscious is up to him.
Q: Was signing Walker a good idea after all?
A: For details that should be obvious, there are few good reasons to host a 47-year-old making his combat sports debut: Walker, despite his impressive athletic résumé, is not a fighter, and MMA is not skydiving. But in the media tour leading up to his fight against a nice shade of green in Greg Nagy, Walker has been a genial, good-natured ambassador for the sport. His presence has gotten Strikeforce exposure it would not otherwise have received -- on ESPN's "Pardon the Interruption," on "The Howard Stern Show" -- and it's been proved difficult to chastise him for tackling ambitions he approaches with such respect.
Q: When will Bobby Lashley become relevant?
A: Being entertained by Wes Sims is not quite the same as believing in Wes Sims, and no one will gasp audibly if Lashley runs through him. If he does, it would be the latest in a series of so-what performances by Lashley, who created (potentially unrealistic) expectations in MMA with his collegiate wrestling background and high profile from professional wrestling.
Heavyweights are on a notoriously steep learning curve: Cain Velasquez drew Cheick Kongo in his sixth pro fight; Brock Lesnar won the world title in four. Sims will be Lashley's fifth trip to the cage. Some acceleration is in order.
Red Ink: Diaz/Zaromskis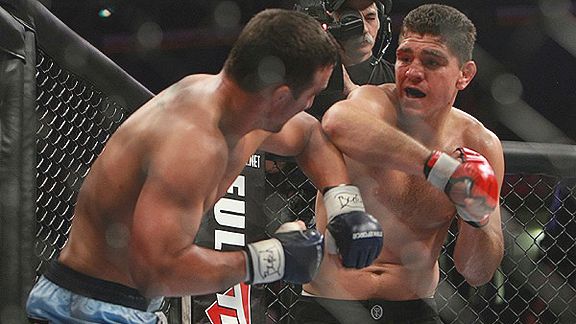 Dave Mandel/Sherdog.com
Nick Diaz's wealth of experience should see him through the rough spots against Marius Zaromskis.
Diaz might have a nightstand brimming with books on geometry, military warfare and psychological intimidation. (All these things might also idle near a bong, but this isn't relevant.) His strikes come from odd angles, stretched farther than you'd think he could reach, and slap into heads with insulting sting. One or two are tolerable; 125 -- the amount of punches Diaz landed in the second round against Scott Smith in June -- are enough to ruin your evening. He will scowl, stick his chin out and dare you to do something about it.
Zaromskis is the kind of guy that dares. A Lithuanian by way of Japan, Zaromskis settles in to generate power from the ground up. He launches kicks with a proficiency that should worry his podiatrist. He's not afraid to climb into the pocket or do something unorthodox to get his way. This is the kind of fight you'll want to show friends.
Might look like: Diaz's bout with Takanori Gomi, a wild bar scene of a first round followed by Diaz using a deep well of conditioning and submission savvy to take Zaromskis out in the second.
Third party investor: The winner of Jay Hieron/Joe Riggs, who would be in front of the line for the 170-pound title.
X factor: Zaromskis' ability to scramble back to his feet in the event Diaz attempts to drown him.
Who wins: It's impossible to root against Zaromskis' ingenuity, but Diaz has proved more at this point: Diaz by submission.