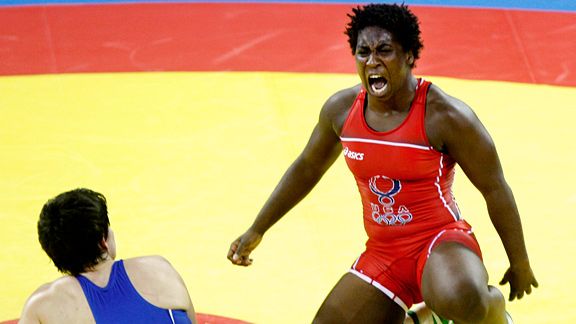 AP Photo/Ed Wray
Randi Miller might have the skills to finally bring a fight to Cristiane "Cyborg" Santos.
I've often said that if anyone is going to create headaches for Cristiane Santos in the women's prizefighting ring, it's going to be someone who can mimic the influx of wrestlers into male MMA in the 1990s. Now that might be happening.
HeadKickLegend.com reports that 2008 Olympic bronze medalist Randi Miller will make her MMA debut in Japan on Aug. 29 for the S-Cup promotion. At a competition weight of 139 pounds, Miller could compete at either 135 or 145 and reportedly has been training with Matt Hughes in Illinois.
This probably isn't the beginning of a deluge. Women's wrestling has a far smaller operating pool of talent than the men's division. But it is an early signal that the level of athletic talent should finally begin to catch up with the level of technique. It might take a year or three, but Santos is looking at a problem.