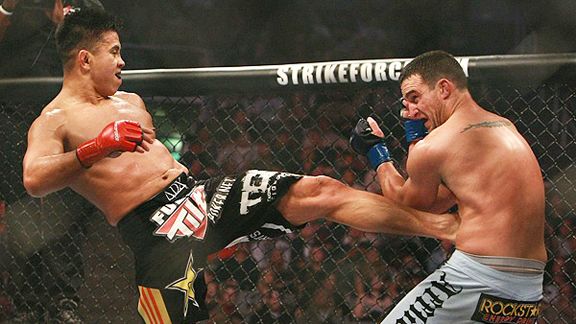 Dave Mandel/Sherdog.com
Cung Le wants to waste no time getting back to training and lining up a rematch with Scott Smith.
A professional fighter with any measure of celebrity being asked how he got started fighting is usually my cue to stop reading -- or watching -- whatever interview is unraveling. It's the kind of pained, so-what stock question that practically guarantees nothing of consequence is going to be unearthed.
Tweet, tweet
Don't miss a moment of the latest MMA coverage from around the world. Follow us on Twitter and stay informed. Join »
The Sports Courier's interview with Cung Le at last weekend's Philadelphia MMA Expo is an entry into that pile, but I hung in there because I was interested in hearing Le's mindset following an upset loss to Scott Smith last month. Some fighters dig their aura of invincibility, and when it's taken away, they can grow pretty apathetic about the whole thing.
"Get back in there, train smart, hard, fight as soon as possible and get a rematch," Le told the Courier. "… I believe this rematch will happen sooner than later."
Seems like Le is more angry than stunned. And why not? He batted Smith like a tee ball for two-plus rounds before tiring out and getting clocked. A loss is a loss, but it wasn't a grave-digging one. Anything that gets Le in the ring before age forces him out has to be seen as a positive.