For a card that the vocal online community was as enthused about as a tooth extraction, UFC 108 turned out to deliver exactly what it advertised: a sequence of good fights, exciting finishes and implications on title contention.
Both Paul Daley and Junior dos Santos were considered to be fairly lethal standing; those warnings grew louder after quick and explosive knockouts over respected fighters Dustin Hazelett and Gilbert Yvel, respectively. Further up the ladder, Rashad Evans survived a third-round scare against Thiago Silva and issued a report that his loss to Lyoto Machida wasn't the beginning of a decline.
The big names the event lacked may have turned out to be a blessing. The higher the fighter on the marquee, the more he has to lose and the more conservatively he'll fight. This was an event filled mostly with athletes looking to earn or boost reputations, not defend them.
Next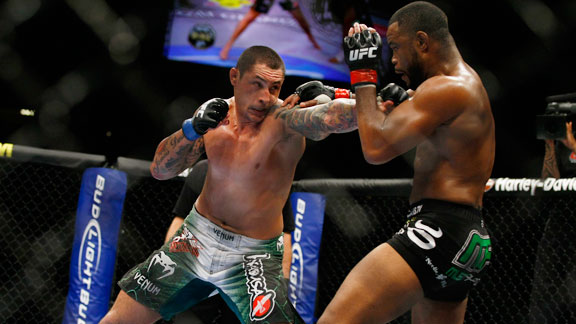 Ric Fogel for ESPN.com
Thiago Silva has nothing to be ashamed of, particularly after his strong showing in Round 3.
Next for Evans: Apparently Quinton "Rampage" Jackson, fresh off "The A-Team" set.
Next for Silva: Unlimited possibilities, particularly because of his strong showing in the third round. Why not the winner of March's Jon Jones-Brandon Vera bout?
Next for Daley: Someone who can tackle his legs and test his ability to fight from his back. Anyone else will end up like Hazelett.
Next for dos Santos: Gabriel Gonzaga or Pat Barry.
Awards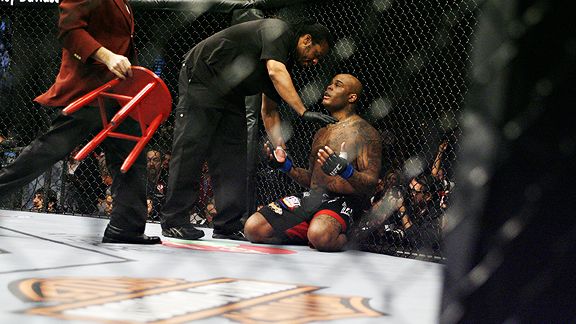 Ric Fogel/Espn.com
For the sake of everyone involved, Gilbert Yvel bit his tongue and no one else.
The finally award: UFC production central, for finally devoting some substantial real estate to the WEC during the broadcast.
The sigh of relief award: Yvel, for protesting what he perceived as an early stoppage against Santos without biting, gouging or blinding anyone.
The win-loss award: Daley, for miming a rifle blast to a prone Hazelett. It's a violent sport, true … but without some kind of class, it's just violence.
The contrition award: Daley, for immediately recognizing he misbehaved and apologizing.
The Harold Howard award: Hazelett, for beginning the fight against Daley with a cool and ridiculous forward somersault. Why MMA is more popular than boxing: not necessarily because of what happens, but because of what could happen.
New questions: UFC 108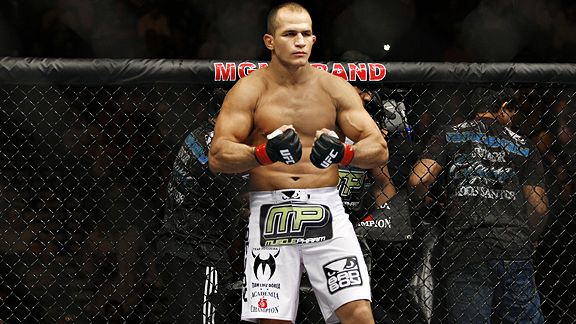 Ric Fogel/Espn.com
We'll find out whether Junior dos Santos is the real deal as soon as he faces a legit wrestler.
Q: Can we finally see an end to the old-era recruiting?
A: Fighters toiling in gyms or on the brink of breaking out in 1999: Duane Ludwig, Phil Baroni, Frank Trigg, Yvel, Dennis Hallman.
Fighters signed or re-signed by the UFC in 2009: Ludwig, Phil Baroni, Frank Trigg, Yvel, Hallman.
The UFC's fetish for outmoded talent has become bizarre. All five men posted losses in their returns: None was likely to call up a return to form in time to outpace age, injuries or ring wear. If a premium-priced pay-per-view event is intended to chronicle the aspirations of title contenders, this isn't cutting it.
Q: Is takedown defense the only thing separating Daley from a title?
A: With Dan Hardy stringing his chances against Georges St. Pierre on KO power he's rarely displayed, Daley has been busy digging graves for respected opponents. There's increasing opinion that he's the best striker at 170 pounds, but someone will force him to play the ground game sooner or later. (Precedent: He looked lost on the mat against Jake Shields in October 2008.) Having a dry run against a Jon Fitch or Josh Koscheck would go a long way toward creating the promotional idea that he's prepared for St. Pierre in all ranges.
Q: Will Evans versus Jackson still sell?
A: In beating Silva via judge's decision Saturday, Evans kept alive a match the UFC had spent 12 weeks promoting in the 10th season of "The Ultimate Fighter." But to capitalize on that business, it likely will have to reintroduce Evans' "grudge" against Jackson through some other platform.
Q: Is dos Santos the beneficiary of good matchmaking?
A: In his four Octagon occupations, dos Santos has ended three of them via TKO in the first round. But none of his opponents possessed any overwhelming ability to drag the fight to the ground, a place where the Brazilian has an excellent Black House pedigree but has yet to display much of it. (He lost via submission in 2007 to an unheralded Joaquim Ferreira.) Until he's up against the wrestling monsters of the division, it's hard to know his place.
This and that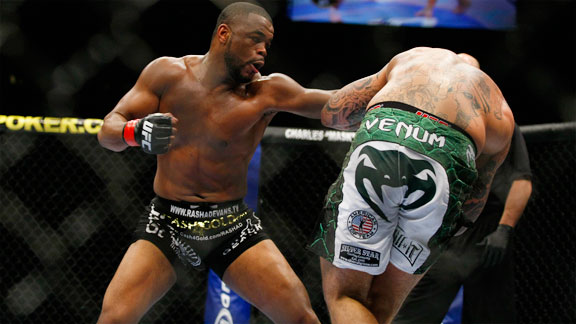 Ric Fogel for ESPN.com
Rashad Evans admits there's work to be done before he rematches Lyoto Machida.
• Despite the rookie move in missing weight, Daley was granted a $50,000 bonus for knocking out Hazelett. Sam Stout and Joe Lauzon justifiably split a $100,000 Fight of the Night check. …
• Evans expressed some hesitancy in taking an immediate rematch with Machida after his win over Silva on Saturday. "If I'm honestly speaking with myself, I think that I need to maybe have one more fight just to integrate everything I've been working on, to make it so when I do get a title shot that nobody will ever beat me," Evans said. The promotion is floating the idea he'll fight Jackson in May, which would coincide with Jackson's publicity duties for June's "A-Team" movie and could provide both entities with a significant boost in crossover publicity. …
• Unlike the majority of boxers who circulate word of their interest in MMA for PR purposes -- anyone remember Floyd Mayweather's plans from 2007? -- James Toney might be crazy enough to actually do it: The 41-year-old with a 72-6-3 professional record hovered over UFC president Dana White at the postfight news conference and threatened to follow White to his house for a talk. Toney is by no means a currently great fighter, but the sport is probably overdue for a boxer/MMA fight at a higher level than we've seen in the past. Easy story, easy sale.