How beleaguered is the UFC's first card of the new year? Hampered by recurring injuries and illness, it has invited speculation that some kind of occult practices are at work, that the program is "cursed" and that Scott Coker is right now -- as you read this -- covered in chicken's blood and chanting something in a dead language.
Tweet, tweet
Don't miss a moment of the latest MMA coverage from around the world. Follow us on Twitter and stay informed. Join »
UFC 108 and its promoters are largely blameless parties. With 20 (or more) events planned for the year, not all of them are going to produce incontinence on the part of excited fans. And lack of anticipation isn't necessarily an indication of quality. (This event actually features one fight that's worth maybe half the $44.95 asking price by itself: see below.) It just means we'll probably get some good fights without the boost of an emotional response to their outcomes.
When fans gripe -- as they have, nearly to the point of embedding snoring .wav files into forum posts -- and proclaim that "the show sucks," what they really mean is this: "I am not aroused by this card, but I acknowledge that the fights themselves may be entertaining." Feeling nervous for fighters can make boring fights riveting; a lack of prior interest can make good fights easily forgotten. No one is particularly beside themselves for Rashad Evans versus Thiago Silva in the way they might be about Anderson Silva's 11th UFC win or Randy Couture smashing a clock to pieces or Brock Lesnar displaying some kind of inhumane technique. Sometimes a show is just a show.
What: "UFC 108: Evans vs. Silva," an 11-bout card from the MGM Grand Garden Arena in Las Vegas.
When: Saturday, Jan. 2, at 10 p.m. ET, with a live, one-hour preliminary show on Spike at 9 p.m. ET.
Why you should care: Primarily because ground specialist Dustin Hazelett (literally) tackling stand-up sensation Paul Daley is a fantastic style-versus-style throwback; because Gilbert Yvel, for whatever character flaws he may possess, has managed few boring fights in his career and likely will stand with Junior dos Santos until neural functions give out.
Fight of the night: Daley-Hazelett, the rare substitute fight that should be better than the originally planned Daley-Carlos Condit bout. This is the kind of thing that, with an easy premise, can induct new fans:
"This guy, Daley," you can say, "wants to stand up. And the guy with the beard wants to submit him."
And your friend, no doubt, will reply: "I hope Kimbo is fighting."
Hype quote of the show: "I'm going into the cage to kill or die." -- a melodramatic Thiago Silva, to Sherdog.com's Greg Savage
(Silva earned a disclosed $58,000 for an August win over Keith Jardine -- good money, but not the dying kind.)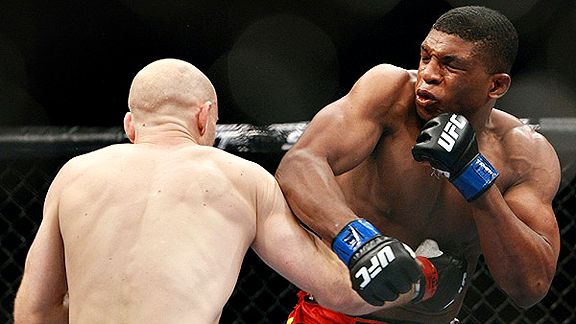 Dave Mandel/Sherdog.com
Is Paul Daley the real deal at welterweight or just the division's scariest striker?
Five (OK, four) questions: UFC 108 edition
Q: Will Rashad Evans be apprehensive?
A: Ugly knockouts tend to deflate delusions of invincibility: Until you've been hammered, you might not believe you can be hammered. Rashad Evans had that mystery stripped away by Lyoto Machida in May. Against Thiago Silva, another intimidating striker, he might back off when he'd normally wade in, take fewer chances than normal or find himself unable to rip off the kind of offensive assault needed for a decisive win. For better or worse, the Evans we see Saturday won't be the same guy who walked in against Machida.
Q: Is Daley the welterweight heavy hitter?
A: For all of the incredible, rounded talent on display at 170 pounds, the class lacks the kind of nervous-anticipation strikers housed at middleweight (Anderson Silva, Melvin Manhoef) and light heavyweight. Daley, a U.K. Thai boxer, might be the best pure puncher in the division -- a fact that raises the stakes for any fight he's in. Beating ground artist Hazelett means the difference between being a scary striker who can cope or excel with grappling (Silva) and a mauler who drowns on the mat (Manhoef).
Q: Has Yvel paid his debt to the industry?
A: Yvel's mental miscalculations in prizefight rings are well-documented. He once struck a referee (Yvel argues the official was acting in collusion with his opponent); he has repeatedly fouled fighters (raking Don Frye's eyes, biting). He has behaved, in short, like a bit of a jerk.
The Nevada commission has granted Yvel a one-fight license, which some would argue is generous in light of his past conduct. But Yvel has largely behaved himself in recent years, and it could be argued that anyone with newfound maturity shouldn't be perpetually condemned for bygone juvenile actions. Alternately, perhaps Dana White is hoping Yvel's reputation will follow him into the event and that he'll crescent kick Steve Mazzagatti into the ICU.
Q: Can the UFC's weakest headliner in months be buoyed by the brand?
A: The last major domestic UFC main event to completely fail to capture anyone's imagination was a Quinton Jackson-Keith Jardine headliner in March. Saturday's Evans-Silva meeting promises to promote similar indifference: Both are coming off violent, one-sided losses to Lyoto Machida -- although Silva squeezed in a win against Jardine in the meantime -- making their pursuit of a Machida rematch mostly dull theater. How many fans will tune in for a holiday weekend card based almost solely on the promise of UFC Action™ is the question mark.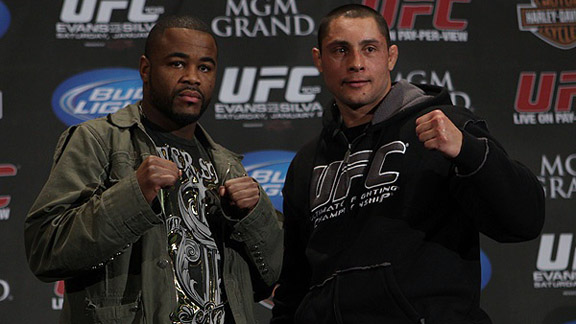 Dave Mandel/Sherdog.com
Rashad Evans and Thiago Alves may have trouble getting into a proper lather for Saturday's fight.
Red Ink: Evans-Silva
Their sometimes-questionable choice of attire aside, fight fans aren't stupid or gullible. So the idea that Saturday's Evans-Silva bout is some kind of "grudge match" may be met with some offense.
Evans is close to Keith Jardine, whom Silva knocked out in an August event. Hype-show editors would have you believe this is sufficient cause for Evans to "seek revenge" against Silva, although both Silva and Jardine were simply doing what they are paid to do. (It would actually be far more offensive for Silva to barely train or put up much effort against Jardine: Showing up prepared tends to indicate a healthy degree of respect.)
Does anyone buy that Evans has any real motivation beyond the norm of wanting to win and get paid? And as fight fans, do we take this increasingly threadbare theater by being insulted or just considering it part of the show?
What it means: For Evans, a chance to prove that the Machida loss hasn't rattled his confidence; for Silva, the biggest win in his career to date against a man who wins 98 percent of the time.
Wild card: Evans comes from a strong wrestling background, but you wouldn't know it on sight: Standing and pulling the shoulder-shake-bravado routine against the murder-stare Muay Thai of Silva wouldn't be one of his better game plans.
Who wins: Evans. He has more tools in the box, assuming he brings everything with him.