The website for "War on the Mainland," a pay-per-view event broadcast from Irvine, Calif., this past Saturday, lists Brian D. Manna, Tony Martinez and Joe Moreira as the men responsible as CEOs, matchmakers and "executives," respectively. You can blame one, all or none, but their employment of Jens Pulver deserves some kind of acknowledgment as a callous and shallow thing.
[+] Enlarge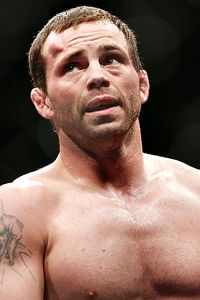 Dave Mandel/Sherdog.com
Jens Pulver has taken his lumps of late, but shouldn't it be someone's responsibility to tell him that he's no longer allowed to?
Before the bout -- one in which Diego Garijo needed barely a minute to drop Pulver and then submit him -- Pulver had lost seven of his past eight bouts, an anvil-on-the-head indication that his abilities have regressed. He has been knocked down, knocked out, submitted in multiple ways and handed the loser's purse inside of a round on virtually every occasion. He appears determined to join the club that Joe Louis, Jack Johnson, Ken Shamrock and a number of other prizefighters found unfortunate membership in: fighting with nothing in reserve just to pay the bills. If you're a Pulver fan, the enthusiasm you might feel in watching him compete has to be diluted by the sad realization that he shouldn't be.
It's clear Pulver won't (or can't) stop himself, and it's clear that the state athletic commissions make no issue of fighters losing in spectacular and recurring fashion. But consider this: When Pulver trots in for loss No. 8 inside of four years, he's doing it in the service of promoters who clearly have no regard for any fighter's expiration date. We have somehow come to a point where the men entrusted with a fighter's health stand to make the most from exploiting it.
If Pulver carried a generic name instead of one familiar to fans, no banner wishing to be taken seriously would employ him. (A nearly 100 percent losing percentage is not the stuff quality undercards are made of.) But because he carries brand awareness, he gets a pass. It speaks more to the tunnel-vision desperation to sell tickets and make money than any sense of concern for a decaying body. It's wrong and it's dangerous.
Encouraging someone to retire is almost always seen as condescending. If Pulver wants to fight, who is anyone to tell him not to? But atrophied skills occupy exactly the same space as blurred vision, high blood pressure, a broken bone or heart arrhythmia: The hobbled athlete might insist on competing, but he's prevented from doing so (or should be) in light of his diminished ability. It's a system meant to counteract the very thing that makes a fighter a fighter: stubborn resolve.
Blame Manna, Martinez and Moreira for employing him. Blame the California State Athletic Commission for not recognizing when an athlete's well has run dry. And blame Pulver for not taking one of the few bits of wisdom provided by Mike Tyson, who said this to reporters after his last fight, a 2005 loss to unheralded boxer Kevin McBride: "I'm not going to disrespect the sport by losing to this caliber of fighter."