Prior to Saturday's fight with Cung Le -- one in which he was expected to lose colorfully -- Scott Smith was told by a concerned corner that he needed to stop taking such significant punishment in his fights.
He went out and spent nearly 15 minutes getting knocked on his rear.
Smith is an accidental storyteller: taking a sustained beating is part of Screenwriting 101, with the protagonist suffering horribly before coming out on top. After being knocked down multiple times and with a Le decision seemingly inevitable, Smith snuck in a left hand, then swarmed in for the kill.
It was Le's first defeat in 24 career combat-sport fights.
There were better matches this weekend -- WEC's Brandon Visher/Courtney Buck horn-ramming, Strikeforce's Josh Thomson/Gilbert Melendez rematch -- but none with that kind of resonance.
Smith's ability to snatch victory from the jaws of defeat -- jaws, to really extend the metaphor, which usually have bitten off an arm and have begun to partially digest his lower body -- has become the new norm. In 2006, nearly ready to keel over from a body shot, he launched a desperation bomb from his hip that dropped Pete Sell; earlier this year, he battled back from a beating to put down Benji Radach in the third round. You could make a lot of money bottling the guy's constitution. And if he could learn to pull these things off earlier in a fight, he might enjoy his 40s.
Next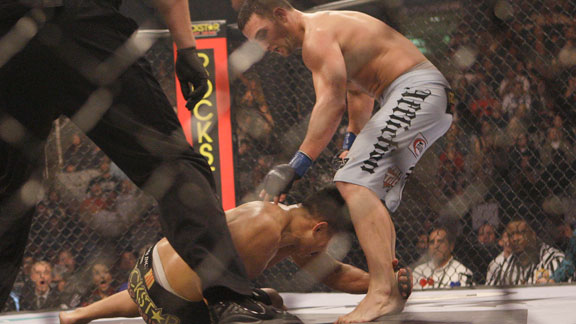 AP Photo/Jeff Chiu
Don't expect Cung Le to get back on his feet any time soon.
Next for Le: Likely another long layoff to film movies with highly dubious award potential; a Smith rematch would sell, though, and provide him with a chance to rub out his one blemish.
Next for Smith: Motrin; then eventually Tim Kennedy or Evangelista "Cyborg" Santos.
Next for Donald Cerrone: The winner of January's Ben Henderson/Jamie Varner title bout.
Next for Ronaldo "Jacare" Souza: Settling his issues with Jason "Mayhem" Miller before meeting the winner of the expected Dan Henderson/Jake Shields title bout.
Next for Gilbert Melendez: Hoping that Shinya Aoki has his passport in order.
Next for Chris Horodecki: 145.
Awards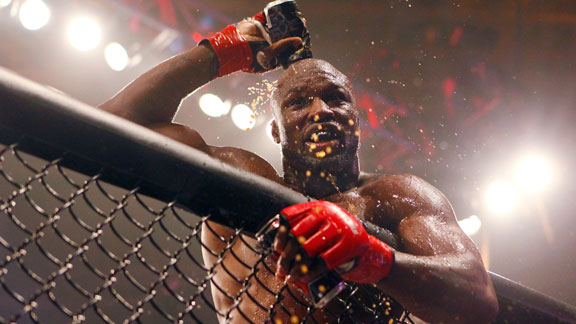 AP Photo/Jeff Chiu
Muhammed Lawal's postfight celebration made a mess of the cage.
The can't-help-himself award: Mauro Ranallo, for suggesting that it took Scott Smith's "'Hands of Steel' to steal this fight." Nyuk, nyuk. And etc.
The insulation award: Versus, for promoting a program called "The World MMA Awards" on Jan. 6 that is guaranteed to consist of nothing but WEC and UFC nominations.
The look-both-ways-before-crossing-the-mat award: Chris Horodecki, for the absurd decision to jog away from Anthony Njokuani with his back turned. (Lesson No. 1 in any introductory self defense class: Don't fall on your head. Lesson No. 2: Don't turn your back.)
The petition-to-put-Muhammed Lawal-on-last award: Lawal, for shaking and then spraying energy drink solution all over the canvas. Maybe sticky, carbonated water might be better for traction, but it's doubtful anyone wants to experiment during a title fight.
New questions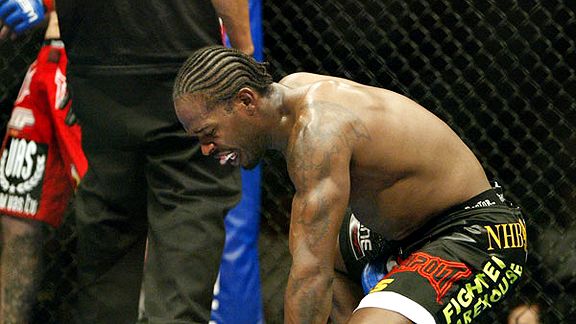 Jeff Sherwood/Sherdog.com
Illegal blows to the groin seemed to the most damage to Ed Ratcliff.
Q: Where does Muhammed Lawal belong?
A: Lawal looked like a fighter cast in bronze next to a gelatinous Mike Whitehead, and the 40-pound weight differential didn't seem to matter. Strikeforce could use free-roaming athletes like Lawal and Dan Henderson to jump around their medium-weight rosters, but it doesn't create much consistency -- and doesn't do any favors to casual fans confused by the skipping. Lawal is a credible threat as a heavyweight, but once he runs into men who know how to use their size -- Brett Rogers, even Bobby Lashley -- he might realize he's in over his head.
Q: Who can handle Ronaldo Souza on the Strikeforce mat?
A: Souza began his MMA career with the sympathies normally given to outstanding grapplers making the transition: of course he's trouble on the mat, but he'll be a mess standing. Instead, De Souza has shown proficiency in all ranges, developing his hands into something to worry about. How Jake Shields or Nick Diaz would approach him -- and where -- is worth exploring.
Q: Can Cung Le still pack a house?
A: Le has fought in MMA seven times at the HP Pavilion: each time, the crowd had some belief that his San Shou background was so unique that his opponents wouldn't have answers. That changed after Scott Smith took advantage of a break in Le's guard, following him to the mat and scoring (another) unlikely victory. Le die-hards will point out that, until that reversal in the closing two minutes, Le was making Smith look foolish.
Everyone loses: A focused Le with more training time, especially in a bid for redemption, might prove to be more popular than ever.
Q: What are athletic commissions going to do about groin shots?
A: If there's one thing worse than suffering a blow to the groin, it's suffering two: Donald Cerrone nailed Ed Ratcliff three times in the basket Saturday, prompting a point deduction and a bit of a tainted victory over a clearly aching Ratcliff; Josh Thomson ate a shot against Gil Melendez. These are fouls with real consequences in the fight, yet no athletic commissions have any particular policies beyond use of a solid-material cup. No material -- even the steel Thai bowls -- can make a fighter totally immune to the shock, but some protection is better than others. Time for regulatory bodies to investigate, then mandate, better shields.
This and that
• Dan Henderson appeared to get the loudest reaction of any Strikeforce spectator Saturday; all the promotion invested by the UFC appears to be paying off …
• Following a TKO over Mike Whitehead, "Mo" Lawal is making noise about a fight with Fedor Emelianenko. If he can score that fight without beating one (or three) ranked heavyweights, it's a sorry state of affairs …
• The WEC offered up a bizarre contradiction by awarding "Fight of the night" honors to both Donald Cerrone/Ed Ratcliff and Takeya Mizugaki/Scott Jorgensen. I'm not advocating that Ratcliff should've been stiffed, but why award Cerrone with a bonus when he spent half the night fouling his opponent?