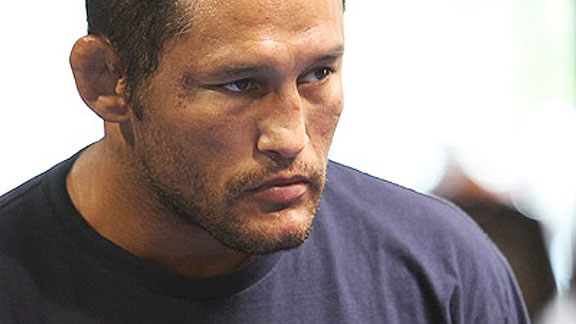 Dave Mandel/Sherdog.com
Did Dan Henderson make the right choice? All depends on where your interests lie.
Dan Henderson's decision to leave Zuffa's Ultimate Fighting Championship this weekend for the different -- not necessarily greener -- pastures of the CBS/Showtime Strikeforce umbrella is scheduled to play out over Henderson's contracted four-fight, 16-month obligation beginning this spring.
Tweet, tweet
Don't miss a moment of the latest MMA coverage from around the world. Follow us on Twitter and stay informed. Join »
Henderson's wins -- as well as the quality of those wins and their relationship to quarter-hour ratings -- will go a long way toward determining whether he made the right decision. Until then, it's almost compulsory to speculate on what his decision means for all involved. (Facts can be such a burden.)
The Winners
Clinch Gear: Henderson's apparel company, blackballed by the UFC in light of his terse negotiations and not likely to be welcomed back, will get a serious visibility boost on network television. Who wouldn't want to see Andy Rooney in a rash guard?
Gegard Mousasi: Strikeforce's 205-pound champion is in a division so barren of top-tier talent that his November fight with Rameau Thierry Sokoudjou was a nontitle affair. Henderson belongs at 185, but he has hustled strongly enough at heavier weights to make this fight relevant.
Frank Shamrock: He beat a so-green-he's-belching Henderson in a grappling match in 1997; a rematch would draw money for both men. Better: Henderson will probably opt to strike with him, saving Shamrock's rotting, geriatric knees from the trouble of all that annoying grappling.
Scott Coker: Dana White's spin can give onlookers whiplash -- someone put him on the Tiger Woods situation -- but it's hard to sell the idea that your co-No. 1 contender for the middleweight title got off at the station. Coker grabbed a sharp UFC athlete who hasn't yet faded.
Losers
Scott Coker: Unfortunately, Strikeforce also got a fighter who hasn't traditionally done great business. Some personalities have that "it" factor. Whatever "it" is, and however you choose to define "it," Henderson isn't that guy. Whether the name he built in the UFC will resonate with viewers is one for Nielsen households to decide.
Cung Le: Henderson joining the mix is bad news for Le, who sports a perfect record by virtue of never having faced a good wrestler.
Jake Shields: Current Strikeforce middleweights are manageable challenges for Shields, who only recently came up to the 185-pound class. Fighting Henderson is a whole other area code.