With a midsection like rising dough, Roy Nelson is among the unlikeliest of finalists in the history of the nearly five-year-old "Ultimate Fighter" television tournament. Despite burning an incredible number of calories in camps, he manages to recoup them and maintain an impressive bulk. If he ever stops training, the Learning Channel will be paying to cut him out of his home.
Tweet, tweet
Don't miss a moment of the latest MMA coverage from around the world. Follow us on Twitter and stay informed. Join »
This is not intended to disparage Nelson, a good fighter, but it is intended to address how casual UFC viewers will feel about a heavyweight contender who looks like the Michelin Man with a bad case of fluid retention. While Nelson was the favorite heading into the season in September, he took a lethargic approach to the final: Against Justin Wren, he actually appeared to have lost. If Nelson is not endearing himself to fans through either his charisma or his fighting, that doesn't leave a lot.
He's still the favorite against Brendan Schaub, an athletic Greg Jackson student who knocked out Marcus Jones in the semifinals. Should Nelson win, the "six-figure"contract will come in handy: He's not getting any supplement company money.
What: "The Ultimate Fighter 10" Live Finale, a 10-bout card from the Pearl at the Palms in Las Vegas.
When: Saturday, Dec. 5, at 9 p.m. ET on Spike.
Why you should care: Because tired, homesick, stressed athletes fighting frequently on a reality show isn't a very good indication of their real abilities; because Kimbo Slice brushing his teeth would draw a high quarter-hour rating, and a fight with Houston Alexander will be significantly more interesting; because Jon Jones won't necessarily have his wrestling to fall back on against Matt Hamill; because Frankie Edgar is flirting with a 155-pound title shot and beating undefeated Matt Veach impressively might help expedite it; and because calling an end to this miserable season is something worth celebrating.
Fight of the night: Hamill-Jones, two talented guys who never, ever stop moving forward.
Hype quote of the show: "I kinda like the guy, to be honest with you … I'm a fan of him, so to fight him would be a damn good thing. It's kinda like how I feel about Mike Tyson. I like him so much to the point to where, win or lose, I wanted to fight him. Regardless of reputation or anything, I'm sure of my game, and now I'm being trained by some of the best trainers out there, so I'm confident with what I'm coming with." -- Slice, not getting the disparage-your-opponent memo, to UFC.com
Five questions: "The Ultimate Fighter" finale edition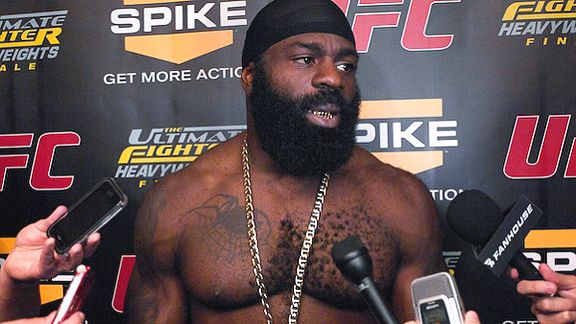 Terry Goodlad/Sherdog.com
At 215 pounds, Kimbo Slice has a lot to lose against Houston Alexander.
Q: Is the Slice-Alexander catchweight a Kimbo preservative?
A: The UFC's preoccupation with catchweight fights continues with Kimbo Slice meeting regular light heavyweight Houston Alexander at 215 pounds; Slice has already condemned the weight cut as taxing. There are literally dozens, if not hundreds, of heavyweights of every conceivable talent level for Slice to have a run at. Why put him on diuretics?
Possible answer: Slice losing via hammering KO to Alexander can easily be explained as being out of his element. Not as easily explained: what he was doing there in the first place.
Q: What is Matt Veach doing for Frankie Edgar?
A: After fighting -- and beating -- names like Sean Sherk, Hermes Franca and Tyson Griffin, Edgar could be only a round or two away from a shot at the 155-pound title. So why face largely unknown Veach?
If he turns him into a blood blister, he was supposed to; if Veach beats him, he'll be knocked out of contention. There are few easy fights in the UFC, and the 11-0 Veach could be anvil-tough. The problem is, we don't know, which makes Edgar beating him a non-winning proposition.
Q: Is Roy Nelson just another pretty face?
A: Any 250-pound black belt with heavy hands, a low center of gravity and a 13-4 career record is going to be a problem. But when it's been time for Roy Nelson to get people to stop obsessing over his holiday-ornament physique, he dropped the ball: He's 0-3 against Andrei Arlovski, Jeff Monson and (on an admittedly dubious decision to) Ben Rothwell, the three most accomplished opponents he's faced. Whether or not he beats Brendan Schaub on Saturday, Nelson still owes the rankings a significant win.
Q: Can Matt Hamill ruin Jon Jones' momentum?
A: A tough wrestler with surprising striking aptitude, Hamill has had experience in the ring Jones hasn't yet matched: bouts with Michael Bisping and Rich Franklin and nearly three times the fights in the promotion. Hamill is largely being seen as a "step up" for Jones to step over, but his ability to pull Jones into a close, ugly fight shouldn't be discounted.
Q: Does Rodney "Shonuff the Master" Wallace have the best nickname in the sport?
A: Yes. Pretty sure he does.
Red Ink: Jones-Hamill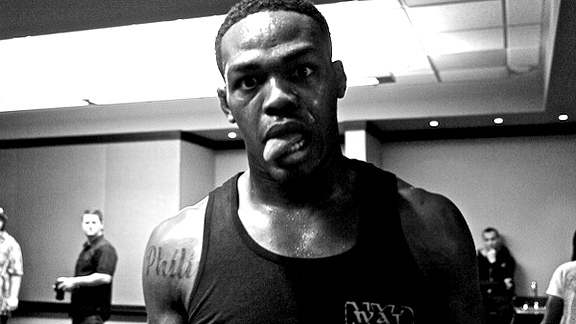 Sherdog.com
Note to Matt Hamill: There's more to Jon Jones than a wrestling pedigree and funny faces.
Part of MMA's appeal is the amusement in seeing human beings perform as though they were in a video game, with striking techniques that can seem miles away from the kind of stationary, routine exchanges found in boxing.
Boxers are very good at what they do. What they do just isn't that layered. That sport is a two-point attack. MMA offers eight points (hands, elbows, knees, feet) and athletes like Cung Le, Georges St. Pierre and now Jon Jones are composing attacks you'd normally only see in an arcade.
There is much hype behind Jones, a tall, 22-year-old athlete from upstate New York who seemed to spring out of nowhere in January to hand Stephan Bonnar a surprising beating. Jones is lots of fast-twitch fibers, the hallmark of a wrestler, and his movements seem inspired by ballet: He pivots, spins, and changes levels with incredible ease.
Matt Hamill, a 2-1 underdog in most betting outlets, is slower but brings punches up from the floor. Jones dances; Hamill's planted. On the ground, Jones is unlikely to control him in the manner he has other athletes: Hamill is a three-time NCAA wrestling champion. It's a good fight, and a better win -- if Jones can manage it.
Might look like: Hamill's fight with Bisping, with Hamill landing more effective shots to Jones' busier, peppering counter-attack.
Wild card: What training with the hired killers at Greg Jackson's has done for Jones. (Strong possibility: something good.)
Who wins: Hamill is a proven problem, but Jones can play his game -- the tough wrestler with limited fight experience -- and do it with a decade's worth of wind and speed in his favor. (Hamill is 33.) Jones by decision.