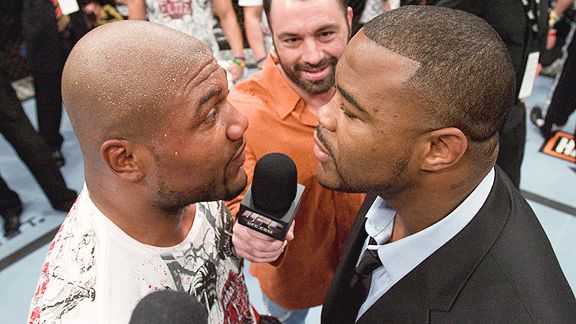 Josh Hedges/Zuffa/UFC
All talk and no fighting makes for some very unhappy MMA fans.
"The Ultimate Fighter 10," easily the most insincere, labored and puzzling season of a series that began as a good idea -- "Big Brother" with headlocks -- came to its merciful conclusion Wednesday, but not before viewers were treated to another jaw session between coaches Rashad Evans and Quinton Jackson.
The tension is supposed to be palpable, but both men flex and circle each other with such physical intimacy that one could almost almost -- get a "Top Gun"/Tarantino vibe from it.
"Let it happen," Evans says.
"Treat me like a b----," Jackson says.
"You soft, dude." And on and on. If this episode doesn't get an Advocate write-up, they're asleep at the wheel.
It's all blather about nothing, though, since Jackson is getting concealer applied to his face for some brain-melting summer movie: With no fight in place, it's like watching someone put a race car in gear, rev the engine and then kill the motor.
The same applied to the season's teasing of Kimbo Slice's fame, with ads constantly toying with the idea of a comeback. Question mark Matt Mitrione fought after all, but Slice was refusing to fight regardless because of arthritis in his knee. That leaves a Saturday final between Roy Nelson, whose cannonball into a pool could affect the Earth's rotational pull, and Brendan Schaub, a guy I barely remember having fought.
Slice's rumored fight with Houston Alexander will likely draw the live finale's highest quarter-hour over the weekend, though there are only three days to promote it. He's popular, if not insanely talented, but talented heavyweights are hard to come by. This show proved it.