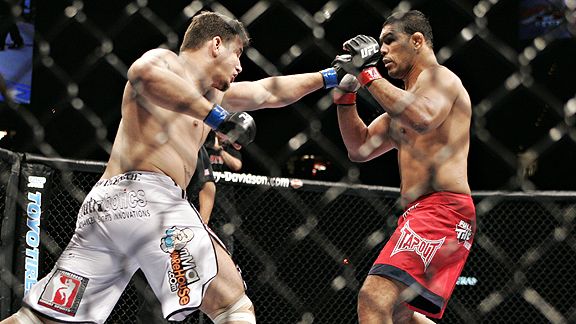 Ric Fogel for ESPN.com
Fight fans weren't exactly clamoring for Frank Mir-Antonio Rodrigo Nogueira 2.
Anyone who was looking forward to a rematch between a ring-worn Antonio Rodrigo Nogueira and Frank Mir at UFC 119 on Sept. 25 has very, very low standards for amusement. Mir methodically picked apart Nogueira in their first meeting, and Nogueira has done little since to indicate it was an anomaly. He's only 34, but inside the cage he looks a decade past it. The fight was just sort of there -- like a rote fulfillment for a main event. Two warm bodies. Who could care?
Tweet, tweet
Don't miss a moment of the latest MMA coverage from around the world. Follow us on Twitter and stay informed. Join »
But Nogueira is injured, per Fighter's Only, and while that's not exactly fortunate, it does provide an opportunity to revise those plans with a bout that carries some juice: Mirko "Cro Cop" Filipovic will be the replacement.
While Mir's striking has come a long way in recent years, I'm not sure Filipovic's has devolved so much where Mir would feel too comfortable for too long on the feet. Likewise, Mir's submission ability can sometimes be stifled by his fairly substandard wrestling (both offensively and defensively). It's at least a fight where the outcome isn't influenced by the sharp and dramatic decline of one of the participants. (Filipovic, who hasn't looked good since 2007, at least got some momentum with a win over Pat Barry over the summer.)
What's perplexing is why the UFC needed a curve ball in order to make the better fight. Whatever system of logic they have in place to make matches needs adjustment if Nog-Mir II is the unfortunate end result.