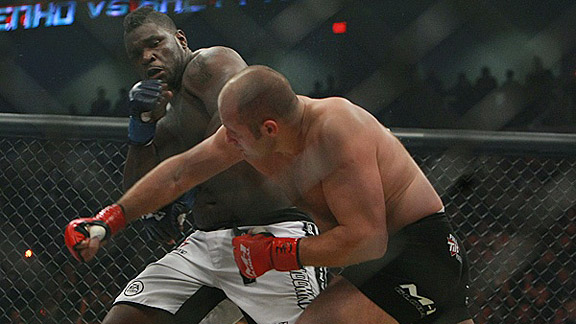 Dave Mandel/Sherdog.com
The eyes have it: No matter the TV numbers, the Emelianenko-Rogers outcome was clear.
Far be it for anyone to doubt the tooth-whitened word of promoters, but there is a slightly rancid smell to the hinting of M-1 this week that Fedor Emelianenko's bout with Brett Rogers on Nov. 7 was the most-watched in MMA history.
Tweet, tweet
Don't miss a moment of the latest MMA coverage from around the world. Follow us on Twitter and stay informed. Join »
The fight "reached 16 million viewers in Fedor's home country," according to the release, and was "broadcast to millions of viewers in Korea on SBS, one of the three major national South Korean networks, as well as television networks in China, Latin America, United Kingdom, New Zealand, Ukraine, Finland, Africa, Turkey, Israel, Indonesia, Bulgaria, Romania and Malta." According to M-1 CEO Joost Raimond, the event was "delivered worldwide more than any other MMA show in the history of the sport."
Though Raimond doesn't qualify the "delivered" part, some people could insinuate from the phrasing that Emelianenko-Rogers was the most-watched four-ounce-glove fight in the history of eyeballs. That would be an error: Japanese telecasts have attracted upward of 54 million viewers for athletes such as Bob Sapp and "Kid" Yamamoto, operating at the height of their popularity.
Raimond would probably argue that he said "worldwide," and then M-1 would force you to watch impenetrable Russian cartoons until you agreed with such logic. Either way, the evidence is still a compelling argument for Emelianenko being the most recognizable martial artist in the world. And co-starring in a film with Michael Madsen can only help his cause.