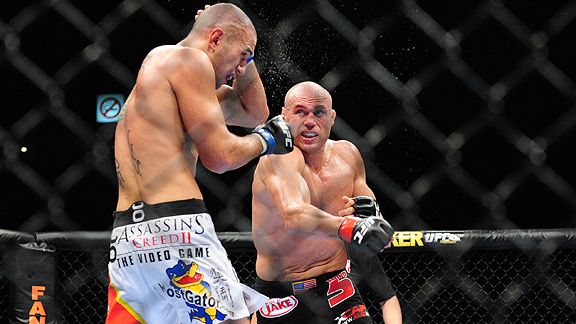 Martin McNeil for ESPN.com
Round 1 to Randy: UFC's Couture outdueled Strikeforce's Fedor in the ratings game.
After some slight misdirection in declaring Saturday's broadcast of UFC 105 "live" -- it was actually on a several-hour tape delay from Manchester, England -- Spike and the UFC have decided that the opportune time to acknowledge the stuttered feed is when discussing how it beat Nov. 7's Strikeforce in the 18-49 demo.
"Emanating from a European UFC attendance-record-setting MEN Arena in Manchester, England, the tape delayed presentation of 'UFC 105' outrated the LIVE broadcast 'CBS Saturday Night Fights' and the Strikeforce debut of Fedor Emelianenko on Saturday, Nov. 7 (9 -11:24 p.m. ET) in every key male demographic," bleated the press release.
An average of 2.9 million viewers tuned in, with 3.7 million staring agog at Randy Couture's hold-and-mold offense against Brandon Vera.
How badly did the event trounce Emelianenko's network debut? Not very. It scored a 2.84 rating in 18-49-year-old males to CBS' 2.45, which is not exactly a Globetrotters/Generals drubbing. And while you could make the argument that the victory resonates more because Spike is on cable and CBS is over-air, this isn't 1995: Nearly 90 percent of homes in the US have a coaxial snaking into their set.
Public relations could take turns spinning these numbers for eternity: UFC 105 was competing with Manny Pacquiao/Miguel Cotto, reportedly a huge seller; Strikeforce was up against a college football game on ABC; a thunderstorm may have disrupted signals to Nielsen households; CBS didn't count the prison population tuning in; and on and on.
It's a strange metaphor for Emelianenko's literal win against Brett Rogers: There are always a set of reasons why we shouldn't find him impressive. No wonder the guy doesn't bother listening to English.