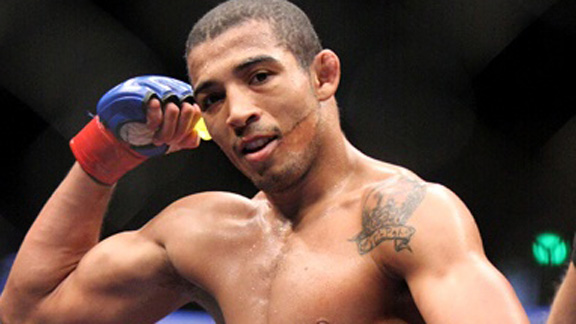 Sherdog.com
Although a long and lean 145 pounds, Jose Aldo has shown more than his share of power.
At 5-foot-6 and a child-actor-like 145 pounds, Mike Thomas Brown is evidence that tough men come in all shapes and sizes. Most would give him a fair chance against several 155-pound fighters; he probably would pick off a few 170-pound athletes if you got him mad enough. His technique is aggression. Some fighters are gentle finishers, rolling you into a submissive ball and hugging you afterward. Brown hopes you'll need a nurse to assist you in chewing.
Tweet, tweet
Don't miss a moment of the latest MMA coverage from around the world. Follow us on Twitter and stay informed. Join »
None of this is news to Jose Aldo, a blitzing striker and jiu-jitsu black belt who has lost only once, four years ago, and washed that out by taking victories in his next eight fights. He is everything Brown is not: a little reckless, long, sometimes airborne. Brown can counter by digging a trench in the canvas and stuffing Aldo in there for five rounds.
What it means: Brown has the potential to become the Anderson Silva or Georges St. Pierre of the 145-pound weight class: A man who makes good fighters appear lost.
Third-party investor: Urijah Faber, the WEC's most familiar face, who probably can't beat Brown but might find a more inviting style match in Aldo.
Wild card: Aldo's striking doesn't follow convention: It will either confuse Brown (as it has others), or Brown will exploit it with a more disciplined offense and heavier hands than Aldo is used to seeing.
Who wins: Brown might eat a few coming in, but he's a guy that would get angry, not concussed, if you took a bat over his head. Brown by TKO.