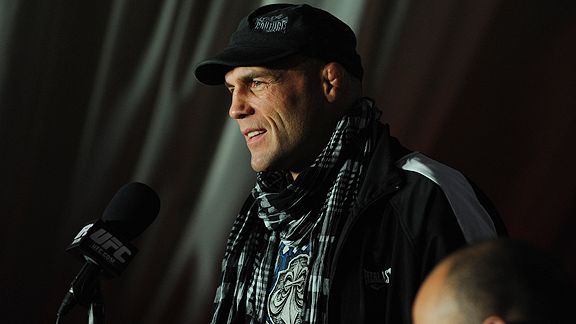 Courtesy of Martin McNeil
It's never so much fun to be proven wrong as when Randy Couture makes us eat crow.
We know the story, and we know how it often ends: Randy Couture -- who has somehow avoided the debilitating effects of 12 years spent inside the Octagon -- takes on a younger, faster, hungrier opponent. People with microphones and laptops gather around and shake their heads at the waiting disaster. And then Couture makes us all -- observers, fighters, bookies -- eat a big, fat one.
Tweet, tweet
Don't miss a moment of the latest MMA coverage from around the world. Follow us on Twitter and stay informed. Join »
This pattern has been repeated against Chuck Liddell, Vitor Belfort (twice), Tim Sylvia, Pedro Rizzo (twice), Gabriel Gonzaga, Kevin Randleman and Tito Ortiz -- and to a lesser extent, in respectable efforts against Antonio Rodrigo Nogueira and Brock Lesnar. It is not Couture's viability at his age that impresses, but his ability to resist the cumulative wear of spending more than a decade in a sport that treats participants like a wood chipper treats trees. It's an inexplicable career we should probably be grateful for witnessing firsthand.
Facing and defeating Brandon Vera, a dangerous 32-year-old, might afford Couture one last stint as a title contender in the 205-pound division, where he certainly could make life difficult for Lyoto Machida. But if he can't, and if his last act in the sport is to headline a show in which the outcome of a fight featuring a 46-year-old is in doubt, then he'll have done it to us again anyway. Couture has a lot of unique abilities, but the most impressive may be making us happy to be wrong about him.
What: UFC 105: Couture versus Vera, an 11-bout card from the M.E.N. Arena in Manchester, England.
When: A tape-delayed broadcast airing on Spike, Saturday, Nov. 14, at 9 p.m. ET.
Why you should care: Because a Couture fight on free television is generous by anyone's standards, let alone a fight promoter's; because Dan Hardy and Mike Swick are both 100 percent certain they're going to win; because Michael Bisping can prove that the Dan Henderson loss didn't rattle him permanently; and because the Manny Pacquiao-Miguel Cotto fight will be on HBO for free a week later. You miss nothing.
Fight of the night: Ross Pearson versus Aaron Riley; considering his inability to put it in reverse, Riley should be in traction by now. He's not. We're glad.
Hype quote of the show: "Yeah, I throw up every fight. Who knows (what causes it) -- nerves, excitement … the anticipation? It could be a whole bunch of different things; I don't know. I just know that if I stop throwing up, it's bad." -- Vera, on his prefight preparation as told to Canoe's SLAM! Sports.